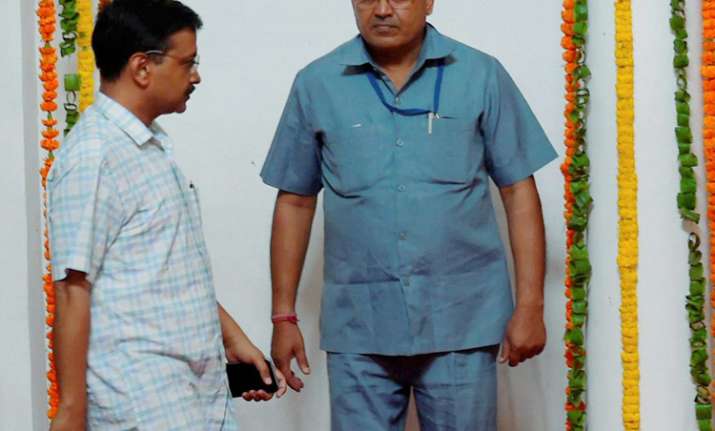 Delhi Chief Minister Arvind Kejriwal on Tuesday accused the Centre of "stalling" the his government's activities by allegedly holding back files relating to the appointment of two new ministers in the cabinet. 
Terming the Bharatiya Janata Party (BJP) government's move as "political vendetta", Kejriwal said the people of Delhi should not suffer due to the Centre's "enimity" with the Aam Aadmi Party (AAP) government. 
"The Centre is sitting on the files for the last 10 days. Many Delhi government activities are stalled due to this. Your enmity is against us, don't take revenge from the people of Delhi," Kejriwal tweeted. 
Kejriwal holds no portfolios in the Delhi government, which can have a maximum of seven ministers as per Constitutional provisions. 
His deputy Manish Sisodia also took to Twitter over the issue, saying now that sacked minister Kapil Mishra's indefinite fast and the ensuing "media circus have ended", it is time the files are cleared. 
Delhi Deputy Chief Minister Manish Sisodia also said since "the indefinite huger strike of Kapil Mishra has ended" the Centre should now clear the files. 
On May 6, Kejriwal divested Kapil Mishra of his portfolios of water, tourism, art and culture, and proposed the induction of AAP legislators, Rajendra Pal Gautam and Kailash Gehlot, in the cabinet.
A top official in the government said the files pertaining to the appointment of Gautam and Gehlot were sent to the Home Ministry just after the city cabinet decision to remove Mishra. 
There was no official word from the Home Ministry over the allegations. 
Before Mishra, AAP MLA Sandeep Kumar was sacked from the cabinet after an objectionable video allegedly involving him emerged last August. 
No new face had replaced Kumar and Sisodia has been taking care of his portfolios -- social welfare, and women and child welfare among others.