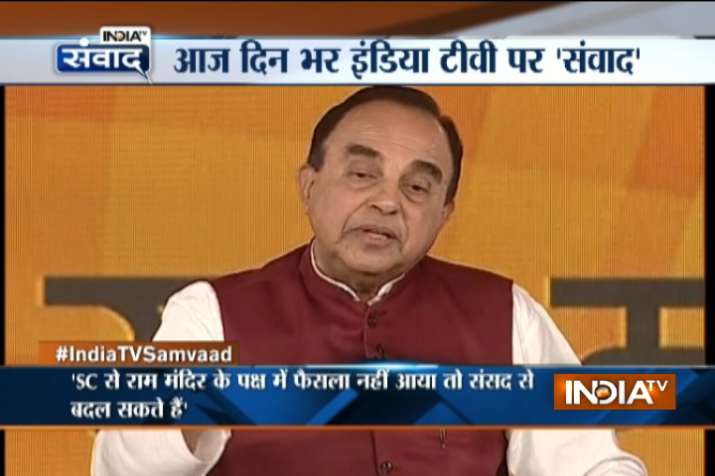 Senior BJP leader Subramanian Swamy today said that if the Supreme Court's verdict in the Ram Janmabhoomi-Babri Masjid dispute goes against the construction of Ram temple in Ayodhya, then the Parliament can overturn the apex court's order the way it did in Shah Bano case way back in 1986 under the Congress. 
Participating in "India TV Samvaad", Swamy said, "If the verdict goes against us, we can bring a bill in the Parliament just like the Congress did in Shah Bano case. Next year, we will get majority in the Rajya Sabha as well, we can pass a law."
Swamy, however,  said that he is fully confident that the Supreme Court will uphold Allahabad High Court's order which ruled in favour of the construction of the Ram temple at the disputed site in Ayodhya. 
Asking the Muslim community not to equate a Mosque with the Ram temple in Ayodhya, Swami argued that while a mosque can be built anywhere, Ram temple can be built only at the disputed site as Lord Ram was born at that place.
Swami tried to substantiate his argument by pointing out that mosques are used by Muslims for offering Namaz which they do even on roads, railway stations and other places.
"You can read namaz anywhere… on station, road… anywhere in open. But we can offer prayer at only that place because Lord Ram was born there," he said. 
"As per the Islamic law, a masjid can be demolished, but when a temple is constructed, you can't shift it," he added.
He reminded the audience that there are 27 mosques in Ayodhya although namaz is not offered in either of them. 
Swamy further said that there are numerous examples of mosques being demolished for the construction of roads and other purposes in Muslim majority countries including Iran and Saudi Arabia. 
The Rajya Sabha MP added that the construction of the Ram temple is essential for the BJP as it was part of the party manifesto in 2014 parliamentary elections. 
"It (Ram Temple) is our compulsion because the BJP stormed to power on this plank. And it is mandatory because it is part of our manifesto," Swamy said. 
He further expressed hope that the apex court will begin daily hearing in this case from July and the order can be delivered by December.