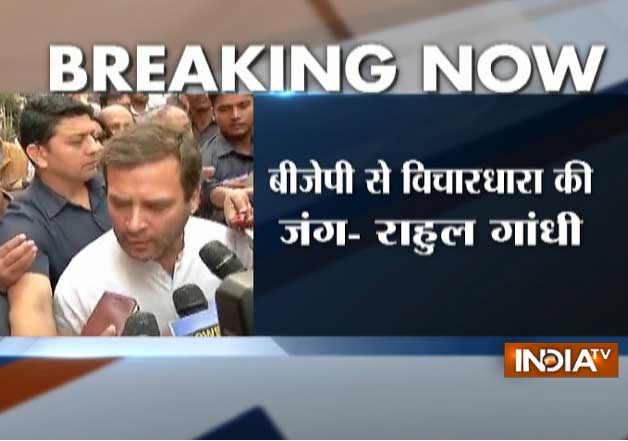 Reacting to the BJP staking claims to form governments in Goa and Manipur, Congress vice predicted Rahul Gandhi today alleged that the saffron party was using 'money power' to undermine democracy in these two states.
"Out of five states, BJP won two. We won three. In two of the states that we won, democracy is being undermined by them, using money and financial power," Rahul Gandhi told media persons.
It is not about how soon they went, but with how much money the BJP went to steal the mandate of Goa & Manipur pic.twitter.com/yWMVpOQr6J

— Office of RG (@OfficeOfRG) March 14, 2017
The Congress vice president further said that his party is fighting against exactly the same ideology that the BJP was displaying in both Goa and Manipur.
"Our fight is against the BJP's ideology, what they did in Manipur and  Goa is exactly the ideology we are fighting against," he added.
Reacting to the drubbing that the Congress received in Uttar Pradesh, Rahul Gandhi said that a party has to face ups and down in its political journey.
"We are in opposition, you have ups and downs and we had a little down in UP; we accept it," Rahul Gandhi said.
He also agreed that there was a need to make structural changes in the Congress party.
Meanwhile, the Supreme Court today rejected the Congress plea to stay the swearing-in of Manohar Parrikar as the new Chief Minister of Goa scheduled to take place later in the day and directed that the floor test be held in the Assembly on March 16.