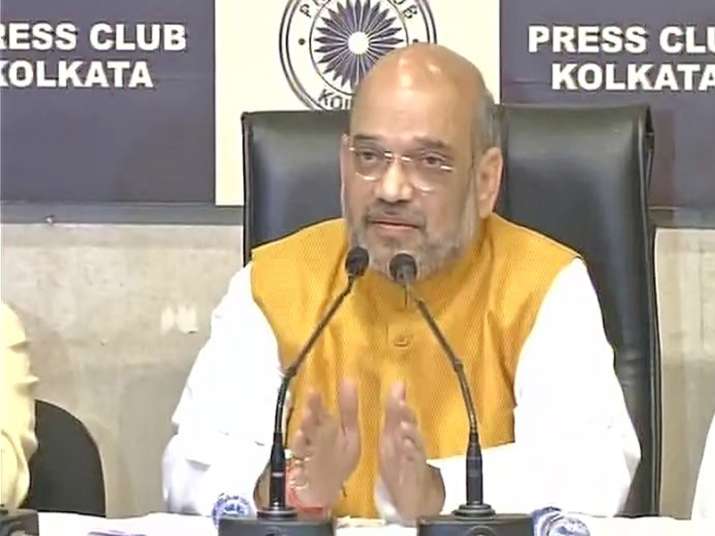 BJP president Amit Shah today said that the party's win in the Delhi civic polls was a vote in favour of Prime Minister Narendra Modi's three years in power and a vote against the 'negative politics' of the AAP.
Addressing the media after the BJP was poised to sweep the Delhi civic polls, Shah said that the Delhi municipal poll win comes after the party won convincingly in the Uttar Pradesh, Uttarakhand, Goa and Manipur assembly polls.
"The people of Delhi have showed that negative kind of politics will not win and only positive politics will win. This is a vote in favour of Modiji's three years in power," he said.
Delhi ke parinaam ne BJP ke vijay rath ko aur aage badhaya hai: Amit Shah #MCDelections2017 pic.twitter.com/K0tkELO01s

— ANI (@ANI) April 26, 2017
He also thanked Delhi BJP chief Manoj Tiwari and the party workers for the win.
Meanwhile, the BJP dedicated its impending win to the slain CRPF personnel in Chhattisgarh's Sukma district and decided to refrain from any celebrations. 
As per the trends, the BJP candidates were maintaining leads over their AAP and Congress rivals in most of the 270 wards for which voting was held on Sunday last. 
Delh BJP chief Manoj Tiwari said that the every heart is filled with grief over the killing of 25 CRPF men in Sukma and the party will not celebrate the victory. 
"But for the Sukma incident, we would be on the streets celebrating this massive victory. We dedicate this win in the feet of Sukma martyrs," he said. 
We dedicate this win to CRPF jawans who lost their lives in #sukmaattack: Manoj Tiwari, BJP Delhi Chief #DelhiMcdElection2017 pic.twitter.com/midKkyNAVL

— ANI (@ANI) April 26, 2017
Tiwari also asserted that the results of MCD polls were a referendum on Kejriwal government. 
"We had been saying this earlier also that MCD polls will be a referendum on Kejriwal government. Arvind Kejriwal used to advocate Right to Recall and it seems now that Delhi people have used the right on him," he said. 
Counting of votes began at 8 AM today with BJP gaining leads in all the three municipal corporations- NDMC, SDMC and EDMC. Voting for 270 of the total 272 municipal wards was held on April 23. Two wards where candidates died, voting was cancelled.