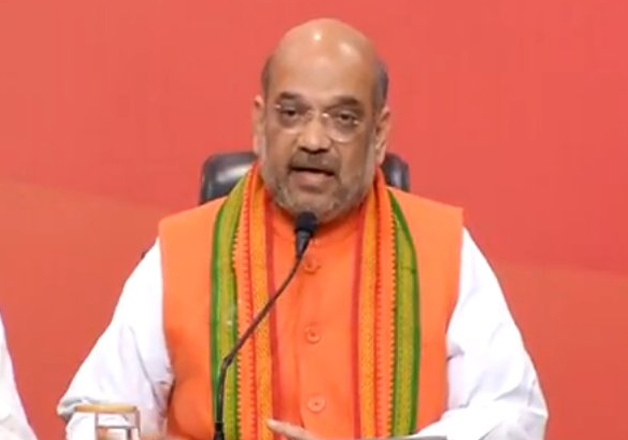 The Bharatiya Janata Party (BJP) today headed for a stunning victory in Uttar Pradesh as its candidates are set to win more than 300 seats in 403-member Assembly. 
Addressing the media at the party headquarters here, BJP president Amit Shah said that people have shown faith in the leadership of Prime Minister Narendra Modi and that the BJP's mega win will usher in a new wave of politics in the country.
In Uttar Pradesh, he said that the first decision of the government will be to impose a complete ban on illegal slaughter houses and strengthening the law and order situation. 
"People are eager to usher in performance based politics," he said.
When asked about the chief ministerial face, he said: "Ours is a cadre based party, unlike others we don't talk about faces in party. The most capable person will be made the CM, the decision will be taken purely on the basis of merit."
नोटबंदी के बाद मोदी जी पर जनता का विश्वास बढ़ा है। मोदी जी जनता की आशाओं पर खरे उतरे हैं: श्री @AmitShah https://t.co/t2ZSCr3rsd

— BJP (@BJP4India) March 11, 2017
योग्यता के आधार पर मुख्यमंत्री का चयन किया जायेगा: श्री @AmitShah लाइव देखें https://t.co/jtwD1yPhm4 || https://t.co/t2ZSCr3rsd pic.twitter.com/E1SwdipkCY

— BJP (@BJP4India) March 11, 2017
He said the Central Parliamentary Board will choose UP Chief Minister in a meeting tomorrow.
"Caste or any such issue will not factor in the central leadership's decision. For us, only one's work matters," he replied to a question.
To a question on BSP supremo Mayawati's claim that the EVMs were tampered to favour the BJP, Shah said, "People have gotten over the Hindu, Muslim discourse and it would be better for the quorum (media) present in this room. Everyone now wants a progressive government."
"BJP's win proof that religion does not matter to UP voters," Shah added.
"This election will end the politics of dynasty, caste and appeasement and will start the era of performance-based politics,"  the BJP chief said.
Shah also informed that PM Modi will be given a grand welcome at BJP headquarters tomorrow.
"Even opposition will have to accept Narendra Modi who has emerged as the most popular leader post-independence," Shah said. 
Shah further said that the party will also form government in Manipur and Goa where it is engaged in a close fight with the Congress. 
"In four states we are going to form government, we have lost Punjab but we have got more than 30 percent votes," he said. 
"The historic mandate given to BJP in all five states will give a new direction to Indian polity," Shah said.
Earlier this morning, the BJP president had credited the BJP-led NDA government's pro-poor policies for the party's thumping victory in UP.
"This is the victory of the corruption-free rule and pro-poor policies under the leadership of Prime Minister Narendra Modi," he tweeted as he congratulated party leaders and workers for the victory in UP and Uttarakhand.
The saffron party with its allies is projected to win close to 320 seats in a 403-member House.