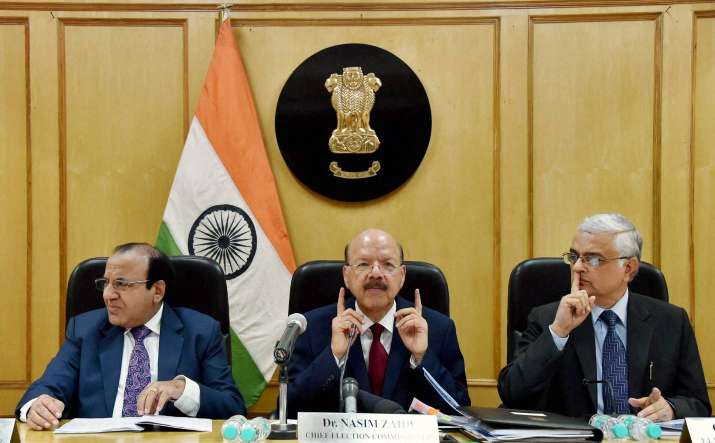 The Election Commission of India on Wednesday said that it was reviewing the Centre's plan to present the Union Budget on February 1, days before five states, including politically crucial Uttar Pradesh, votes to choose a new government. 
The Cabinet Committee on Parliamentary Affairs (CCPA) headed by Home Minister Rajnath Singh met yesterday and recommended holding the Budget Session from January 31 followed by the presentation of the Union Budget on February 1.  
The Assembly elections in Uttar Pradesh will be held in seven phases between February 11 and March 8, while Punjab and Goa will go to polls together on February 4, Uttarakhand on February 15 and Manipur in two phases on March 4 and 8, with counting to be held on March 11.
Talking to reporters after announcing the schedule of the polls, Chief Election Commissioner Dr Nasim Zaidi said that various political parties have represented to the Election Commission regarding the issue of presentation of Union Budget during the election campaign to five states.
"The Commission has received one representation sent by some political parties. This representation is with regards to presentation of the budget. The Commission is examining this representation and in due course of time will take a call on this," he told reporters when asked about the issue.
According to a report by the Indian Express, 16 opposition parties, including the Congress, have written to President Pranab Mukherjee and to the Election Commission claiming that the move to advance the Budget is an attempt to influence the assembly elections in five states.
The joint letter, sent earlier this week, questioned the NDA-led Centre's motive saying the government could announce populist schemes in the middle of the election campaign in order to influence voters.
Congress leader Ghulam Nabi Azad, CPI(M)'s Sitaram Yechury, SP's Ram Gopal Yadav and JD(U)'s Sharad Yadav are among those who have signed the letter. 
The parties have said that the government should be stopped from advancing the Budget Session, claiming this would come in the way of free and fair elections.
Union Budget is usually presented on the last working day of February but in 2012, when the same states were up for election, the UPA government deferred it to March 16 after voting was completed.
Reacting to the Opposition demand, Finance Minister Arun Jaitley said, "These are those political parties which say that popularity of demonetisation is very low. So why they are afraid of the Budget." 
When asked about the presentation of the budget in March 2012 after the elections, including in Uttar Pradesh, he said "This is not a tradition (for following) everytime." 
"Interim budget is presented just before Lok Sabha elections. No one has stopped that. Even in 2014, interim budget was presented some days before the general elections. This is a constitutional necessity," he said.