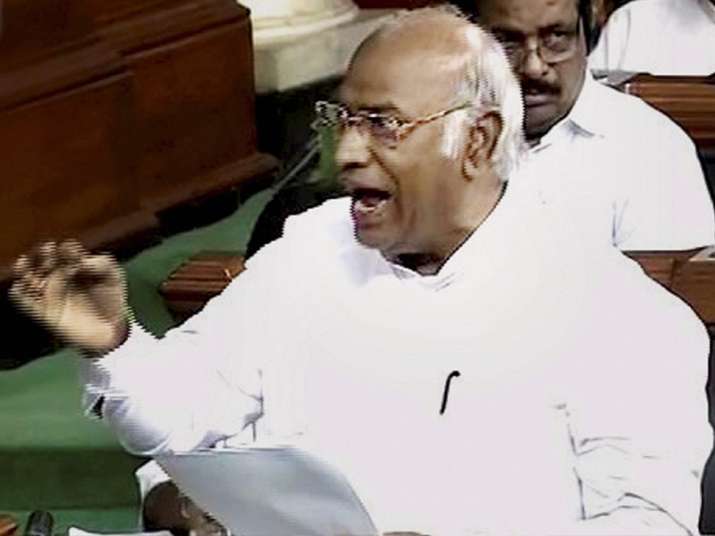 Coming down heavily on Hindutva organisations that are linked to the BJP including the RSS and VHP, senior Congress leader Mallikarjun Kharge today said that 'some forces in the country are creating an atmosphere of discord with incidents like lynching of a Muslim man in Alwar town of Rajasthan'.
"With such incidents, particularly BJP's other organisations like RSS, Bajrang Dal and VHP are trying to create an atmosphere of discord in the country. People are disturbed due to this," Kharge said. 
Pehlu Khan (55) died at a hospital in Alwar district on Monday after allegedly being beaten by a group of cow vigilantes. The incident took place on Saturday when 16 people were allegedly transporting bovine animals from Jaipur to Haryana. 
Kharge's reference to Hindutva organisations linked to the BJP was however expunged by Speaker Sumitra Mahajan. 
Kharge said that the Congress party will take this message of alleged misdeeds by Hindutva organisations to the common people. 
Kharge, who is leader of Congress in Lok Sabha, also lashed out at the BJP members in the House and said that the law was being broken. 
Kharge said that five persons were ferrying three cows after buying them for Rs 75000 when their vehicle was stopped by cow vigilantes in Alwar and they were thrashed, leading to the death of one person. 
He also targeted the state's Home Minister for his comments that both sides, the accused and the victims, had done something wrong and there was nothing wrong in people stopping cow smuggling. Kharge further noted that the victims were dairy farmers. 
The Congress leader also said that only four persons were arrested even though the group of attackers had over 200 people. 
Parliamentary Affairs Minister Ananth Kumar said that Kharge's allegations against the Hindutva bodies were baseless.