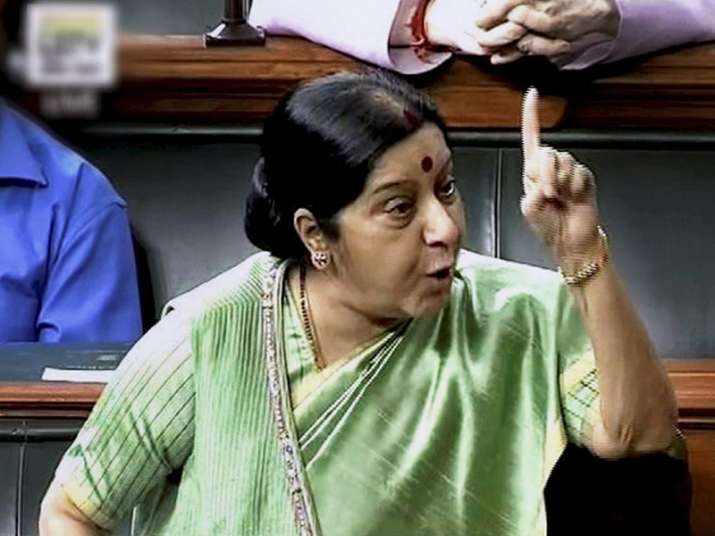 Amid moves by Pakistan to declare Gilgit-Baltistan as a new province, India today once again underlined its claim over territories of Jammu and Kashmir under Pakistani occupation.
Speaking on the floor of the Lok Sabha, External Affairs Minister Sushma Swaraj asserted that it would be 'wrong to think that India will let go of any part of its territory'. 
"Even raising a doubt over this government that it will let go of some area will be wrong," the Minister responded to BJD leader Bhartruhari Mahtab who wanted to know government's stand on the matter.
She noted that both Houses of Parliament had passed resolutions which had iterated India's claim over the PoK and Gilgit-Baltistan, both under Pakistan's occupation, and the government was bound by it. 
She also quoted a BJP slogan which underlines India's claim over the territory and noted that its founder Shyama Prasad Mookerjee had 'sacrificed' his life over this. 
"We are bound by Parliament's resolutions and also our resolve," she said.
In a written reply in the Lok Sabha, Swaraj's deputy VK Singh said, "The government has seen reports that a committee headed by Advisor to the Prime Minister of Pakistan has recommended that the so-called 'Gilgit-Baltistan' area of the Indian state of Jammu and Kashmir, which is under illegal occupation of Pakistan, be given provisional provincial status."
"It is our consistent position that the entire state of Jammu and Kashmir is an integral part of India. Any action to alter the status of any part of the territory under the illegal and forcible occupation of Pakistan has no legal basis whatsoever and is completely unacceptable," he added. 
The federal cabinet of Pakistan had last month accorded approval to the recommendations of the Federally Administered Tribal Areas (FATA) reforms committee, which included the merger of the tribal areas with Khyber-Pakhtunkhwa province and repeal of the Frontier Crimes Regulation (FCR).
Chairing the cabinet meeting, Prime Minister Nawaz Sharif said that the people of FATA, Gilgit-Baltistan and Azad Jammu and Kashmir will be given their due rights.
Sartaj Aziz, Advisor on Foreign Affairs to the Pakistan Prime Minister, had even said that necessary amendments would be made in the constitution to enable the people of FATA to elect their representatives to the assembly in the 2018 general elections.
In his statement on Wednesday, Singh said that 'Pakistan should immediately vacate all areas under its illegal occupation'. 
"Further, any step to alter the status of Pakistan-occupied territory cannot hide the grave human rights violations, exploitation and denial of freedom in these areas. Our position in this matter has been made clear to international interlocuters," he stated.