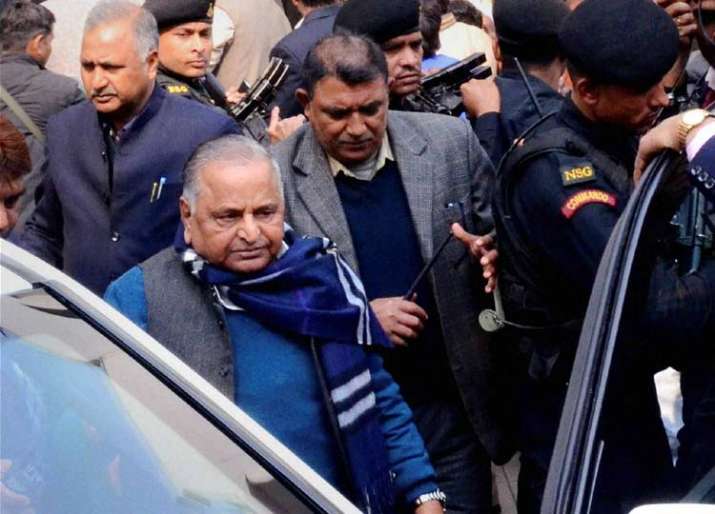 As the warring factions of Samajwadi Party keenly await the Election Commission's verdict on the 'cycle' symbol, party founder Mulayam Singh Yadav today announced that he would contest against his son and UP chief Minister Akhilesh Yadav. 
Claiming that he has full support of minorities, senior Yadav said, "Many people have said that Muslims are unhappy with Akhilesh. We will again form a government and will take full care of minorities." 
He said, we have worked for minorities and presented their side during the Ayodhya dispute. 
Talking about his son, Mulayam added that he had tried to talk to Akhilesh, but he chose to ignore him. 
"I called Akhilesh thrice but he came for only one minute and left before I initiated a discussion,"he added.
Mulayam also poured scourn on his cousin Ram Gopal Yadav for the apparent split in the party and attacked him for misguiding his son and siding with opponents.
"Senior party leaders including Balram Yadav, Omprakash, Narad Rai were shown the door. Even lady minister Ambika Chowdhary was ousted. What was their fault," said the disgruntled senior Yadav. 
"It now on Akhilesh to think whether he wants to stand with his father or his uncle Ram Gopal Yadav." 
Notedly, the Samajwadi Party draws significant support from UP's nearly 19 per cent Muslim voters. 
"EC decision will come at 4 pm. Tried to convince Akhilesh but he is not realising his mistake," said Mulayam in his address. 
Reacting to the decision, Samajwadi Party spokesperson Juhie Singh said, "It is a tragic day, now the issue is with the Election Commission."
Akhilesh Yadav is expected to announce an alliance with the Congress and other smaller parties like Ajit Singh's Rashtriya Lok Dal or RLD once the symbol tussle is settled.