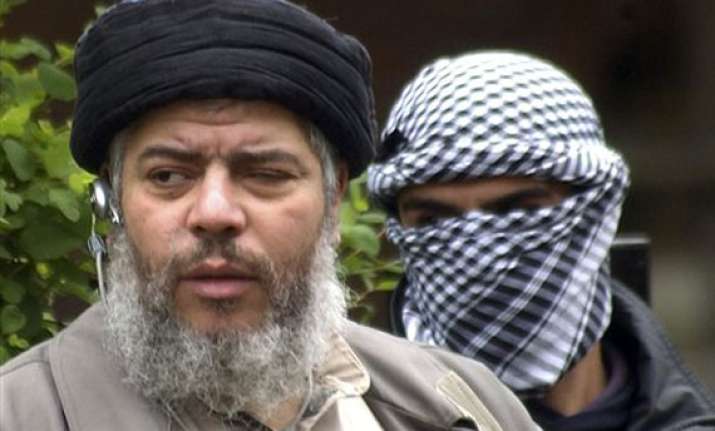 New York/London, Oct 6: After battling extradition for years, radical Islamic cleric Abu Hamza al-Masri along with four other terror suspects was today flown to the US from the UK to face trial on charges relating to hostage taking and conspiracy to set up an al-Qaeda-style militant training camp.
The five men, escorted by US marshals, were sent to the US on two chartered aircraft from British air force base in Mildenhall, hours after the High Court in London rejected their final appeals against extradition last evening.
Authorities whisked Al-Masri, Khaled al-Fawwaz and Adel Abdul Bary to New York's Metropolitan Correctional Centre in Manhattan after their arrival and they would be produced in the District Court tomorrow, CNN reported.
The two other suspects extradited from Britain, Babar Ahmad and Talha Ahsan, who travelled on a separate plane, were to be produced before a judge in New Haven, Connecticut.  
54-year-old Al-Masri, an Egyptian-born former imam, has been indicted in the US on charges like setting up an al-Qaeda-style militant training camp in Oregon. He is also being charged for the 1998 kidnapping of 16 westerners in Yemen.
Al-Masri is one of the highest profile radical Islamic figures in Britain, who has already been sentenced to seven years by a British court for inciting racial hatred at his north London mosque and other terrorism-related charges.
A one-time nightclub bouncer in London's Soho district, al-Masri—also known as Mustafa Kamal Mustafa—has said he lost both hands and one eye while fighting against the Soviet occupation of Afghanistan. He often wore a hook in place of one hand.
Two senior judges at the High Court in London dismissed the five men's pleas to be allowed a stay of extradition, and, within hours, they were whisked from the prison to a Royal Air Force base in eastern England used by the US military.  
"I can confirm that ... two planes have left RAF Mildenhall", taking the suspects "to the US to face trial", British Home Secretary Theresa May said in a statement.  The planes took off around midnight, carrying Abu Hamza and fellow suspects.
"I am pleased the decision of the court meant that these men, who used every available opportunity to frustrate and delay the extradition process over many years, could finally be removed...," she said.