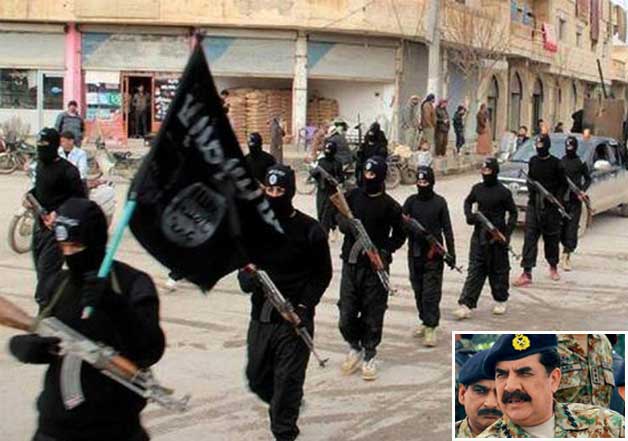 New Delhi:  On January 26, 2015, a sense of unease gripped Pakistan when "The Islamic State in Iraq and Syria (ISIS)" announced its plans to expand into the land of "Khorasan" that mainly consisted of Afghanistan, Pakistan and some parts of their surrounding countries.
 
Underlining the  seriousness of its plans, the ISIS announced the appointment of Hafez Saeed Khan, a former Commander of Tehrik-e Taliban Pakistan (TTP) as the "Governor" of the new Khorasan province.
 
Mullah Abdul Rauf Khadim, a former Guantanamo detainee and former  Taliban commander in southern Afghanistan, was made the "Deputy Governor" of this so-called  province.
 
With reports of the Pakistani society getting more and more radicalised with each passing day, it appeared as if the chances of ISIS spread in India's western neighbourhood was both real as well as frightening.
 
However, after more than one year of that announcement, the apprehensions of ISIS getting a foothold in Pakistan have proved to be misplaced and it has come as a big relief to every country  of South Asian  region.
Read Also: What makes Chabahar port a 'strategic asset' for India against both China and Pakistan?
 
Why did the ISIS actually fail in spreading its wings to a land  which has acquired notoriety for patronising extremist and violent philosophies of radical Islam?
 
Well, there are many factors that prevented ISIS from realising its dreams of spreading its network on a large scale in the Islamic Republic of Pakistan.
 
Let's have a look at some of the most important reasons behind ISIS failure in Pakistan:
 
1. Ideological inflexibility of ISIS (Insistence on the single caliphate under Baghdadi)
 
The biggest problem with ISIS is that it calls for the acceptance of its leader Abu Bakr al Baghdadi as Commander of the Faithful and the Caliph of Muslims.
 
The ISIS believes that all Muslim radical factions that are fighting to bring in Islamic rule (Sharia) in different parts of the world should pledge their unconditional allegiance to Baghdadi.
 
However, this is not acceptable to most of the Muslim extremists groups including those in Pakistan.  
Read Also: Since Nawaz Sharif is a toothless PM, should India start engaging Pakistan Army?
Extremist factions in Pakistan are fighting for different reasons and they have their own ambitions and aspirations. They are unwilling to play second fiddle to any other organisation.  
 
The other important factor that can't be overlooked is that most of the extremist elements in Pakistan, especially those like Lashkar-e-Taiba (LeT) and Jaish-e-Mohammad (JeM), are patronised by the all-powerful Pakistan Army which treats them  as strategic assets against India.
 
If ISIS succeeds in making its presence felt in Pakistan then it will pose a grave danger to the authority of Army as well because going by ISIS definition of Islamic Rule, Pakistani establishment consists of apostates who have deviated from the pure form of Islam.
 
Since the Pakistani Army is well aware of this possibility, they are ultra vigilant in ensuring that the spread of ISIS and its philosophy is not allowed at any cost.
 
2. Lack of state support from both  Pakistan and USA
 
Some of Pakistan watchers always expressed fears of ISIS spreading its wings in Pakistan on the pattern of Taliban which used religion to attract youth and recruit fighters.
 
Strategic experts, however,  point out that the Taliban spread to Pakistan primarily because they were groomed by Pakistan right from their early days because they were seen as fighting against the "oppressor " Soviet Union which had invaded Afghanistan.
Read Also: India's NSG entry: Why Switzerland's support could be a game changer
 
Both Pakistan and the United States extended their whole-hearted support to Taliban. In fact, they were the ones who created Taliban so much so that they were officially termed as Mujahideens (freedom-fighters) by both Pakistani and American governments.
 
In case of ISIS, they are abhorred by both Pakistan and US governments for different reasons. And this lack of state support has stopped ISIS from spreading its influence in Pakistan.
 
3. Geographical challenges
 
Presently, the ISIS has its influence in parts of Syria and Iraq. Now their geographic spread is shrinking very fast owing to the recent success of military operations backed by both US and Russia.
 
However, even when they were at the peak of their geographical outreach, they had failed to spread beyond Syria and Iraq.
 
Now, if the ISIS fighters have to take their battle physically to Pakistan, it's not that easy for them because the borders of neither Syria nor Iraq touch Pakistan.
Read Also: Donald Trump vs Hillary Clinton: Who will be a better US President for India?
 
If an ISIS fighter or sympathiser wants to travel to his handler in Pakistan, he will need a passport and a valid visa for Turkey or Iran which, under present circumstances, is not that easy.
 
The Taliban could do this because of two reasons – first, they were seen as assets by the Pakistani establishment.
 
In fact, the concept of creating a mujahideen force was created by the then Pakistani Prime Minister Benazir Bhutto's trusted military officer Major-General Naseerullah Babar.  The reality is that Pakistan was the last state to withdraw legitimacy to Mulla Omar's government.  ISIS does not enjoy any such special treatment.
 
Second, the border between Pakistan and Afghanistani is largely porous and it was easy for the Taliban fighters to sneak into Pakistan.
 
The historical bondage that Pashtuns of Afghanistan shared with Pakistan also helped them in moving freely in that country.
 
4. 'Despondency' among sympathisers of radical Islam
 
Pakistan watchers point out that one main reason why ISIS has failed to attract the radical elements among Pakistan is the senseless and unending war that is still going on in Afghanistan.
 
They had hoped that with Taliban taking over the reins of power in Afghanistan in early 21st century, they will get to see an Afghanistan that will follow pure Islam as they had visualised.
 
But the way the Taliban were forced out of power has demoralised even the most enthusiastic of those who are supporters or sympathisers of radical Islam.
 
A sense of frustration is gradually gripping them and their zest is waning, perhaps slowly but surely.
 
5. Operation  Zarb-e-Azb
 
The reported success of Operation Zarb-e-Azb has further demoralised the radical elements in Pakistan who would have otherwise preferred to throw their weight behind the ISIS.
 
Operation Zarb-e-Azb was launched on 15 June 2014 in North Waziristan along the Pakistan-Afghanistan border.
 
If media reports emanating from Pakistan are to be believed, this operation has been fairly successful in containing the militant groups that challenged Pakistani state.
 
Strategic experts, however, have pointed out that under this operation that was expanded to different parts of the country later on; Pakistani establishment deliberately turned a blind eye towards those militant groups which are involved in terrorist activities against India.
 
This operation has further forced radical and extremist elements not to explore options of extending allegiance to ISIS which the Pakistan Army abhors.
 
Challenges ahead
 
This is not to say that there is virtually no ISIS presence in Pakistan. It's true that they have failed to make much headway but they have got a group of supporters active in different parts who are believed to be opting for guerrilla warfare.
 
 
Strategic experts have pointed out that ISIS operatives are trying to infiltrate universities and Islamic schools in major cities of Pakistan. They point towards the reported ISIS links to the recent suicide attack on a Christian neighbourhood in Lahore which left 72 dead.  
 
A recent report published by London based Sunday Express said that an investigation by Pakistani security officials in 2015 found a "small cabal of government officials" who had been "collecting information for ISIS" in support of "its holy war on the West".
 
The report quoted these officials as saying that they were aware of ISIS presence in Sindh and Khyber-Pakhtunkhwa provinces.
 
The security experts point out that the number of ISIS sympathisers may be very small but there is an urgent need on part of Pakistani Army and security personnel to be vigilant of such clusters especially some of the vulnerable Madrasas and mosques.