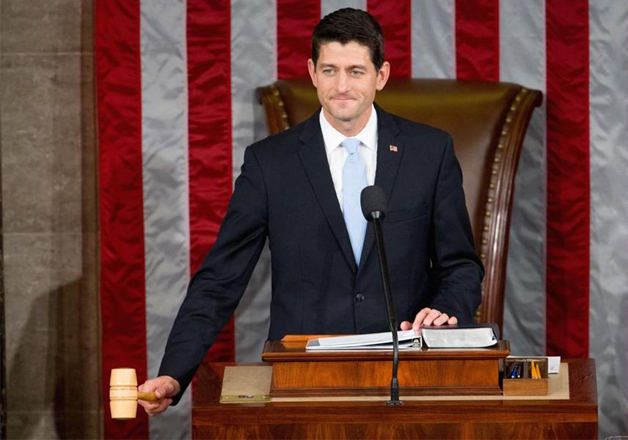 US lawmakers on Tuesday voted to retain Congressman Paul Ryan as Speaker of the House of Representatives, making him a critical player in Congress as Donald Trump prepares to assume the presidency.
House members voted 239 to 189 to re-elect Ryan to the key post over the top Democrat, former speaker Nancy Pelosi. Five lawmakers voted for other figures.
Ryan (46) will lead the 115th Congress, which gaveled into session 17 days before Trump's inauguration.
"Honored to be elected Speaker of the House for the 115th Congress," he tweeted.
"To all our new members, I want to say simply: Thank you, congratulations, and welcome," he said in another tweet.
Addressing the House after his election, Ryan made a sharp call to action, "We are not here to be; we are here to do."
"Millions and millions of Americans are deeply dissatisfied with their situation. They have let out a great roar. … We hear you, we will do right by you and we will deliver," he said.
Republicans currently enjoy a 241-to-194 advantage over Democrats in the House.
Ryan was first elected Speaker in October 2015, after his predecessor John Boehner retired following repeated revolts by House conservatives.
Republicans kept their majorities in both the House and Senate in the November 8 elections in which voters elected Donald Trump to the White House over Democrat Hillary Clinton.
It should be noted that Trump and Ryan were frequently at odds during the presidential campaign. Ryan was often critical of Trump's most contentious statements, like his questioning of the impartiality of a judge with Mexican heritage in a fraud case involving Trump University. And Trump tormented Ryan, lashing out when Ryan failed to support him fully and calling him a 'very weak and ineffective leader'.
Lately, relations have been warmer. Last month, Trump likened the Speaker to 'a fine wine', saying he had come to appreciate his genius more and more.