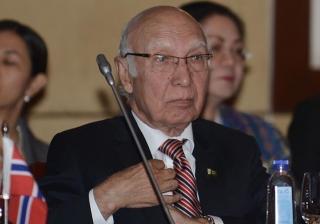 Responding to the international community's concerns over Pakistan's weapons of mass destructions falling into the hands of non-state actors, Sartaj Aziz, Adviser to PM Nawaz Sharif on Foreign Affairs, today said that Islamabad will not allow this to happen.
"Pakistan will continue to partner with international community to prevent non-state actors from acquiring these weapons," Sartaj Aziz said while delivering a keynote address on the implementation of UN Security Council resolution 1540 in Islamabad.
Asserting that Pakistan was a responsible nuclear state, Sartaj Aziz underscored the need for striking a balance between advancing the goals of non-proliferation and facilitating access of developing countries to strategic and dual-use goods under appropriate safeguards.
Aziz further said that Pakistan was willing to share its expertise and provision of technical assistance to developing countries in the region and beyond.
"States which possess advanced capabilities should have an equal opportunity to participate in and contribute to the export control governance architecture," he added.
He also underlined Pakistan's credentials and expertise to become a member of the Nuclear Suppliers Group (NSG).
However, he also emphasised the need for a transparent, objective and non-discriminatory criterion for the cartel's membership of non-NPT applicants.