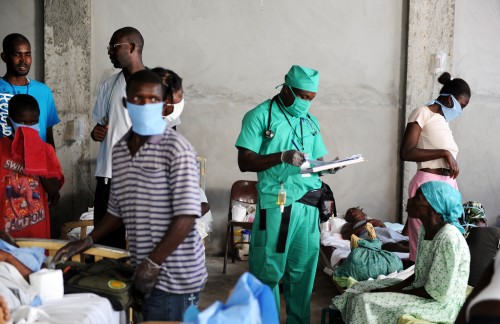 The United Nations has ordered a probe on Indian peacekeepers in Haiti for arriving in the Carribean country without the mandatory cholera vaccination.
According to a Times of India report, more than 100 men of Assam Rifles, India's oldest paramilitary force, landed in Haiti in July-August last year after they were certified by the home ministry as having taken the vaccine. 
The United Nations has sought an official clarification from the Indian government as to why it confirmed that these troops had been vaccinated. 
It may be worth mentioning here that UN has been dismayed as it has been accused of being responsible for the cholera outbreak in Haiti in 2010. In a rare gesture by the UN last month, the then secretary general Ban ki-Moon apologised for the cholera outbreak in Haiti. 
The UN peacekeeping forces which had arrived from Nepal in the country in 2010 were accused of causing the outbreak of cholera by performing their daily ablutions in a river next to the base they were stationed at. 
Haiti officially holds UN responsible for the epidemic which has caused over 10,000 deaths in the past six years.   
Before Ban ki-Moon apologised, the UN had been denying its role in the outbreak. 
Facing intense criticism over its role in the cholera outbreak, the UN in 2015 made anti-cholera vaccines mandatory for all peacekeeping forces arriving in Haiti.