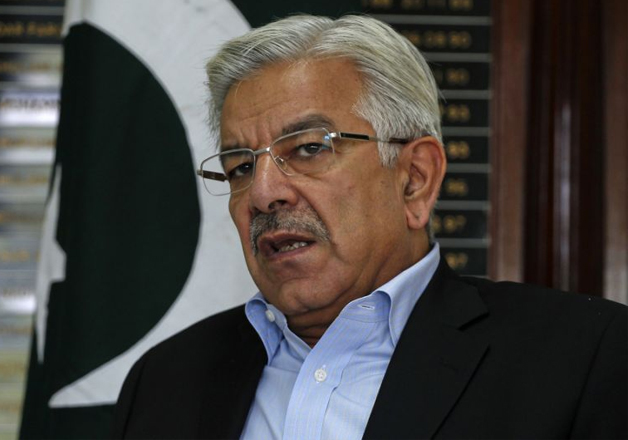 Pakistan's Defence Minister Khawaja Asif has accused India and Afghanistan of 'joining hands to create unrest' in his country. 
Responding to opposition lawmakers' point of objection to shut down border crossings with Afghanistan in the National Assembly on Monday, Asif said that 'Pakistan was trying to implement better and more complete border management with Afghanistan'.
Until there was better border management with Afghanistan, he said, the scourge of terrorism will continue to exist.
The issue of border management is one of national security, Asif said, urging lawmakers not to play politics on the matter. 
"We have the right to shut the border between Afghanistan and Pakistan and protect our people," Asif claimed.
He said that the border has 25 openings from where people travel between the two countries, but Pakistan cannot let terrorists cross into the country.
"If there will be terrorist attacks in the country and people will die by the hundreds, we will shut the border down," he asserted.
"We gave refuge to thousands of Afghans, but we will not keep housing terrorists," he said, adding, "the killers of our sons are sitting on Afghan soil, the government needs to take action against them."
Pakistan had last month sealed the Torkham border crossing with Afghanistan for an indefinite period. According to reports, the border crossing was sealed for all kinds of trade and commercial activities due to security concerns.
The decision was taken immediately after a suicide terror attack in Sindh province at shrine of Lal Shahbaz Qalandar in Sehwan, killing more than 70 people.
About India, the Defence Minister said that there had been a constant rise in India's alleged unprovoked firing and violation of the ceasefire agreement along the Line of Control (LoC).
In a written reply to the House, Asif claimed that in the past four years, India has violated the ceasefire agreement 1,170 times along the LoC and 257 times across the International Border.
The civilian deaths in the past four years has risen to 111, he said.