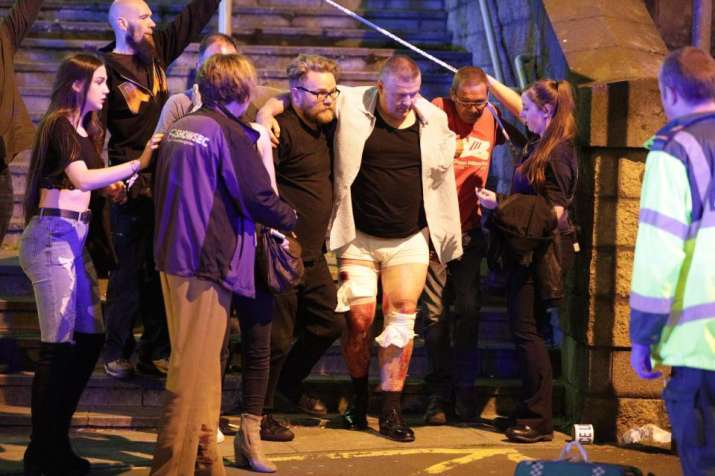 At least 19 people were killed and more than 50 wounded in an explosion during a concert by US singer Ariana Grande in UK's Manchester city on Monday evening, in what two US officials said was a suspected suicide bombing. 
Prime Minister Theresa May said the incident was being treated as a terrorist attack. If confirmed, it would be the deadliest militant assault in Britain since four British Muslims killed 52 people in suicide bombings on London's transport system in July 2005.
News agency ANI quoted unconfirmed reports saying that an unknown terror account of a possible Islamic State sympathiser tweeted about the Manchester Arena in England, hours before the blast. 
"#Islamic State #manchesterarena #UK #British ARE YOU FORGET OUR THREAT? THIS IS THE JUST TERROR (sic)" read the tweet posted by @owys663.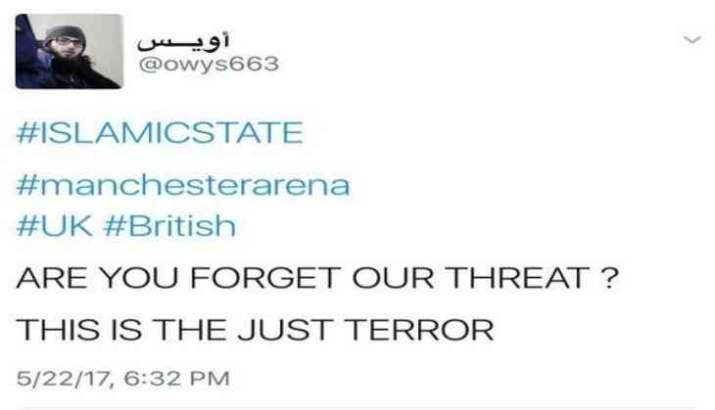 Islamic State sympathiser tweeted Manchester Arena with 'ISIS flag'
Meanwhile, an unverified video has also appeared on social media purportedly showing a man claiming the "loyals" of ISIS were behind an alleged 'nail bomb' attack inside Manchester Arena.
According to some media reports, Islaimc State Jihadis, an arm of ISIS, has claimed responsibility for the attack. However, there is now official confirmation yet.
Twitter accounts affiliated to Islamic State have used hashtags referring to the blast to post celebratory messages, with some users encouraging similar attacks elsewhere.
"It seems that bombs of the British airforce over children of Mosul and Raqqa has just came back to #Manchester," one user named Abdul Haqq said on Twitter, in reference to the Iraqi and Syrian cities held by the militants where a US-led coalition is conducting air strikes.
The last time England saw such a deadly terror attack was in 2005 when on July 7, which killed 52 people after terrorists carried out a series of coordinated suicide bomb attacks in central London targeting civilians using the public transport system during the rush hour.
Also, in 2009, the Manchester police had thwarted a major terror bid to attack Manchester's Arndale shopping centre on the busy Easter bank holiday weekend.