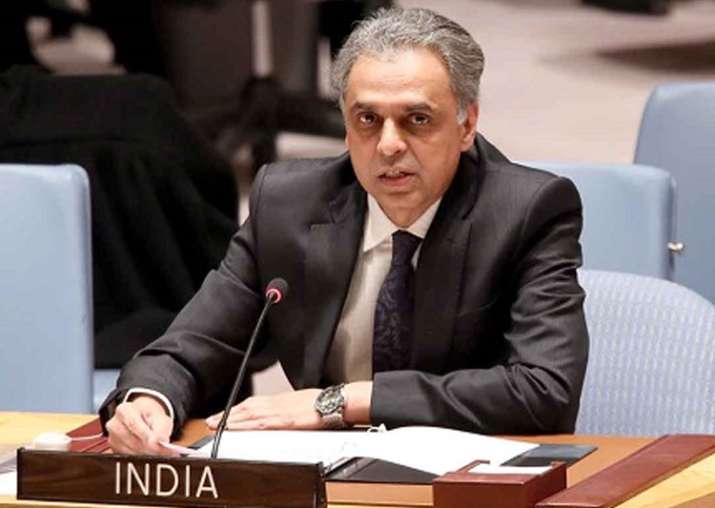 In a no-holds-barred attack on both Pakistan and the United States at the UN, India today slammed its neighbour for providing safe havens to terror and chided the US over its policy to continue support to the Islamic nation. 
In a veiled reference to Pakistan, India today accused Islamabad of supporting, training and funding terrorists groups to stoke trouble in neighbouring countries including Afghanistan. 
Participating in a Security Council debate on Afghanistan, India's Permanent Representative to UN Syed Akbaruddin asked the member states to find where the 'anti-government elements' in Kabul were sourcing weapons, training and funds to fight 'one of the biggest collective military forces in the world'.
"We see a growing tendency of treating violence in Afghanistan as a routine occurrence. Brutalities by terrorist and criminal networks are ignored under the label of anti- government elements or a consequence of a civil and political conflict. In doing so, we appear to be failing in asking some crucial questions," he said.
"Where do they find safe havens and sanctuaries? How is it that these elements have stood up against one of the biggest collective military efforts in the world? How is it that these elements collaborate with the world's most dreadful terrorists in killing and brutalising the Afghans?" he asked.
Afghanistan has for long blamed Pakistan for aiding and abetting terrorists responsible for the attacks on its soil. The United States has even acknowledged the existence of such safe havens in Pakistan but military aid to Islamabad continues.
Referring to Washington's financial aid to Pakistan to 'fight' terrorism, Akbaruddin said that the situation in the landlocked country 'can't change when participants on the international stage can't or are unwilling to see the various state and non-state agencies roiling the situation there'.
"This we believe, for a long time, has remained the conundrum that the international community has faced in Afghanistan. The international community's collective inability and unwillingness to see the problem for what it is has inflicted huge costs on the people of Afghanistan," he noted.
Akbaruddin also asserted that the international community should not differentiate between good and bad terrorists, as he admonished attempts to play one group against the other.
"The Taliban, Haqqani Network, Al-Qaeda, Daesh, Lashkar-e-Toiba, Jaish-e-Mohammad and others of their ilk are all terror organisations, many of them proscribed by the UN. They should be treated like terrorist organisations with no justifications offered for their activities," he said.
With Afghanistan reeling from terror attacks targeting hospitals, schools, funerals, international development agencies and diplomatic missions in recent months, Akbaruddin said that such attacks 'seem to be aimed at sending a message to a nation trying to stand on its feet'.
"Clearly, the international community is dealing in Afghanistan with an adversary who is not averse to flagrantly violating international humanitarian and human rights laws; an adversary flush with resources, weapons and operational support; an adversary that has access to sanctuaries outside the sovereignty of Afghanistan," he said.
Akbaruddin lamented that the recent multiple crises inflicted on the war-torn country have again made Afghan territory attractive for criminal and terrorist groups, which seem well connected to international terror and crime networks that prey themselves on the resources of Afghanistan.
"This situation affects the security in South and Central Asian regions and beyond. The international community's collective inability and unwillingness to see the problem for what it is has inflicted huge costs on the people of Afghanistan," he said.
He also criticised the Security Council for at times even shying away from condemning some of the terrorist attacks in Afghanistan. "Is it that they are far too many to keep track of? Is it because there is a threshold below which human lives lost to terrorism are not required to be addressed," he added.