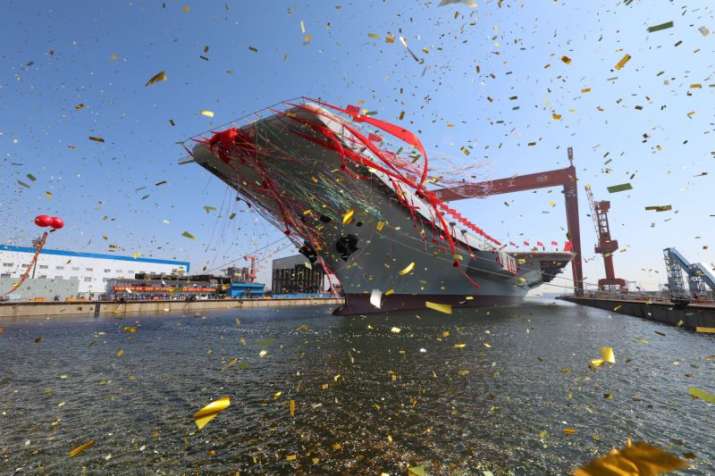 China today launched its first indigeneously-built aircraft carrier which will join an existing one bought from Ukraine, boosting its military capabilities amid worries about Beijing's assertiveness in the South China Sea.
The Chinese state media said that the carrier, designed in China and built in the northeastern port of Dalian, is not expected to enter service until 2020. 
On the contrary, India struggles to finish the construction of its home-grow aircraft carrier, the Vikrant. According to report from the national auditor last year, the completion of the project may not take place before 2023. 
The reason behind the delay is that the key sensors and weapon systems including its surface to air missiles and aviation complex are yet to be ordered, which may take up to a year. 
China's new warship, which is likely to be named the Shandong, is also considerably larger than India's Vikrant which has a displacement of 40,000 tonnes; that means it should be able to embark a larger number of helicopters and fighters. 
The launch also comes amid heated rhetoric between the US and North Korea in recent days. The US has deployed warships and a submarine to the Korean peninsula, prompting an angry reaction from North Korea. China has urged for calm. 
China's military is also eyeing more aircraft carriers to enhance its capabilities. 
Recently state-run People's Daily quoted military experts as saying that the third aircraft carrier to be built in Shanghai may be nuclear powered. 
Earlier reports said Chinese navy which now has an expanded role among the military is set to raise its marine forces from 20,000 to one lakh as it started setting up logistic bases in Gwadar port in Pakistan and Djibouti in Africa. 
China has enhanced the battle capabilities of its aircraft carrier Liaoning, with more than 10 pilots from carrier-based jet fighters and commanders getting their certificates, making China one of the few countries capable of training its own pilots for aircraft carriers.