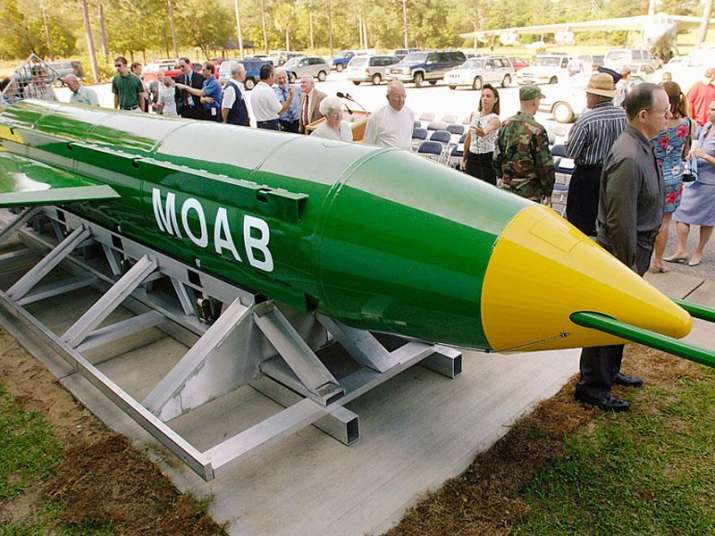 At least 13 Indians were among 94 killed in the 'Mother of all bombs' (MOAB) dropped by the United States in Afghanistan's Nangarhar province last week, the Pajhwok Afghan News agency has claimed.
"An Afghan security source confirmed death of 13 Indians in MOAB attack in Achin," the news agency said in a tweet today.
Flash: An #Afghan security source confirmed death of 13 Indians in #MOAB attack in #Achin.

— Pajhwok Afghan News (@pajhwok) April 18, 2017
The GBU-43, a non-nuclear, 10-tonne missile powered by a wave of air pressure, was dropped on a tunnel network of Islamic State militants last week. 
Earlier, there were reports that a man from Kerala who had moved to Afghanistan allegedly to join the terror group had died in the blast.  
Initially, the death was reported to be around 36, but later it mounted to 94. Afghan officials have confirmed that at least 94 people were killed in the attack and the figure might change as the clearance work progresses. 
The agency in a tweet also claimed that 13 ISIS operatives were killed in the attack, a claim turned down by the militant group.
#Afghanistan releases the names and photos of 13 Daesh IS commanders killed in US #MOAB attack in #Achin.

— Pajhwok Afghan News (@pajhwok) April 18, 2017
However, a statement released on Friday through the ISIS media wing, Amaq News Agency, said that none of the terror group's fighters were killed or injured. 
The blast destroyed three underground tunnels as well as weapons and ammunition, Afghan officials said.
The US military defended its decision when it was quizzed Friday on whether the behemoth bomb was necessary for that particular target.
"This was the right weapon against the right target. It was the right time to use it tactically against the right target on the battlefield," General John Nicholson, commander for US forces in Afghanistan, said at a news conference.
"The enemy had created bunkers, tunnels and extensive mine fields, and this weapon was used to reduce those obstacles so that we could continue our offensive in southern Nangarhar," Nicholson added.
The US military previously estimated ISIS had 600 to 800 active fighters in the area.
Afghan President Ashraf Ghani said he approved of the strike and it was designed to support Afghan and US forces conducting clearance operations in the region.