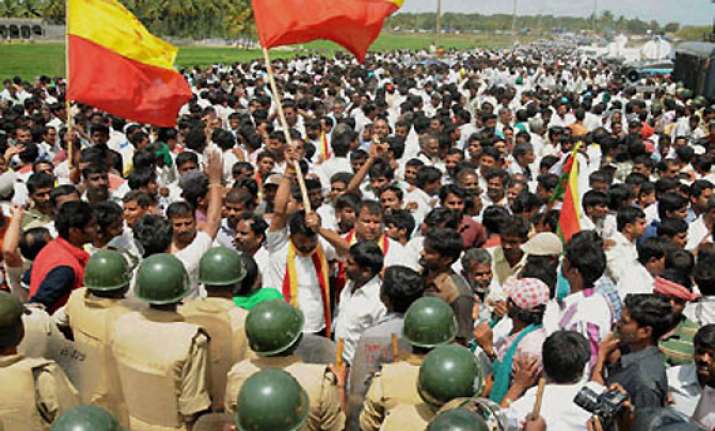 Chennai/Bangalore, Oct 9: The Cauvery row hotted up today with Tamil Nadu deciding to knock at Supreme Court's door with a contempt petition against Karnataka for "unilaterally" stopping release of water to it.
A day after Karnataka's action, the Jayalalithaa Government accused the upper riparian state of "unilaterally" stopping water release, saying it amounted to dishnouring the apex court order and impeding the country's federal structure.
Tamil Nadu's decision intensifying the legal battle came at a high-level meeting chaired by Chief Minister J Jayalalithaa even as protests showed signs of easing in Karnataka after water discharge was stopped citing depleted storage.
Karnataka last night stopped water release from the Krishna Raja Sagar dam, hours after Prime Minister Manmohan Singh made it clear that only the Cauvery River Authority can review its order directing the state to release 9,000 cusecs to Tamil Nadu.
On a petition from Tamil Nadu, the apex court had earlier endorsed the CRA ruling asking Karnataka to release 9,000 cusecs from September 20-October 15, a decision contested by both states, locked in the vexed Cauvery dispute.
Life in Mandya district, the hotbed of Cauvery politics, was limping back to normalcy after water discharge was stopped though farmers said they would continue their dharna till the CRA reviewed its September 19 directive.
"Till the CRA headed by the Prime Minister gives its verdict, we will continue the agitation", said M S Atmananda, former minister and leader of Cauvery Hitarakshana Samithi, spearheading the stir since water release began on Sept 30.
Police said they were continuing a tight vigil in the Cauvery basin area to prevent any untoward incidents.
DMK chief M Karunanidhi, a key UPA ally, meanwhile flayed External Affairs Minister S M Krishna for having sought stoppage of further release of Cauvery water to Tamil Nadu, saying he should not work with 'regional considerations.'
"Maybe he would have written such a letter to impress his state's people, keeping in mind that elections are due in another two years," he said.
In Tamil Nadu, CPI workers and farmers blocked trains in some delta districts demanding continuous release of water by Karnataka as per the CRA order.
Led by CPI National Secretary D Raja and party's state Secretary D Pandian, they blocked trains at different places including Thanjavur, Tiruvarur and Mayiladuthirai, police said, adding over 500 party workers were detained and later let off.
Raja said the protests were not against Karnataka or its farmers but only aimed at Tamil Nadu getting its due share. He also said there should be a neutral body and permanent mechanism to monitor release of water.
PMK leader S Ramadoss demanded that the Centre take over all dams constructed across the Cauvery.
After Karnataka made it clear to the Supreme Court that it was "physically impossible" to release any more water, Chief Minister Jagdish Shettar said yesterday the state would file a review petition before the CRA.
Supreme Court had yesterday said its order directing Karnataka to release 9,000 cusecs of water to Tamil Nadu will not be an impediment in the Prime Minister deciding on the review petition before the CRA.