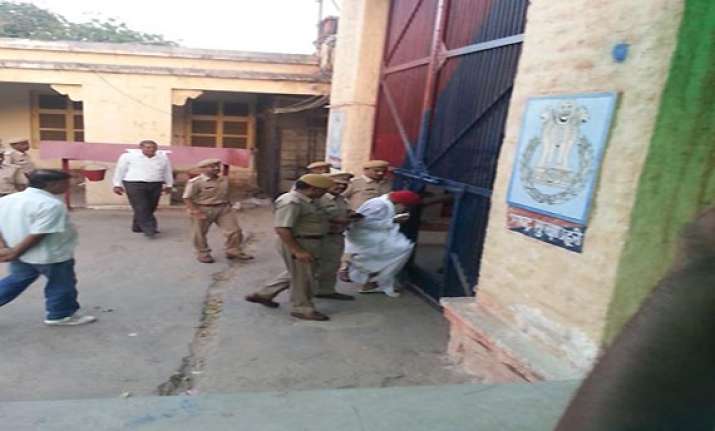 Jodhpur: Self-styled godman Asaram Bapu's supporters went on a rampage outside Jodhpur central jail this evening, smashing windowscreen of an India TV OB van and three other vehicles, with local police watching as mute spectators.
Senior police officials were busy in a meeting inside the jail at that time. The officials later ordered a lathicharge to disperse the violent supporters who numbered between 5,000 to 10,000.
Asaram Bapu has been lodged inside a 10' x 12' lock up inside the jail. It was in this lockup that Bollywood star Salman Khan and  Congress leader Mahipal Maderna, an accused in the killing of Bhanwari Devi were lodged.
Asaram signed his name in the jail inmates register on arrival. He carried a bag in which there were two sets of clothes and religious books.
Asaram refused to eat jail food on Monday night, saying that he had already eaten food brought by his 'sadhaks' (assistants)  in court.
Inside the lockup, Asaram was given a chatai, a durree and a mug of water.
Asaram asked jail authorities whether he could walk inside the jail premises. The authorities gave him the permission. Two security guards have been posted outside the lockup, which is under CCTV surveillance.
Earlier, in the afternoon, a local court ordered Asaram to be sent to 14 days judicial custody.
The godman's lawyers immediately filed a bail application which will be taken up on Tuesday morning.
Jodhpur police has meanwhile arrested Shiva, the sewadar of the ashram, where the sexual attack allegedly took place. Police officials say, Shiva's version did not match with that of Asaram Bapu's version.
Meanwhile, in another development, Shilpi, the female warden of Asaram's Gurukul (school) in Chhindwara, MP, has suddenly gone missing. It was Shilpi who had motivated the assault victim's parents to meet Asaram Bapu.