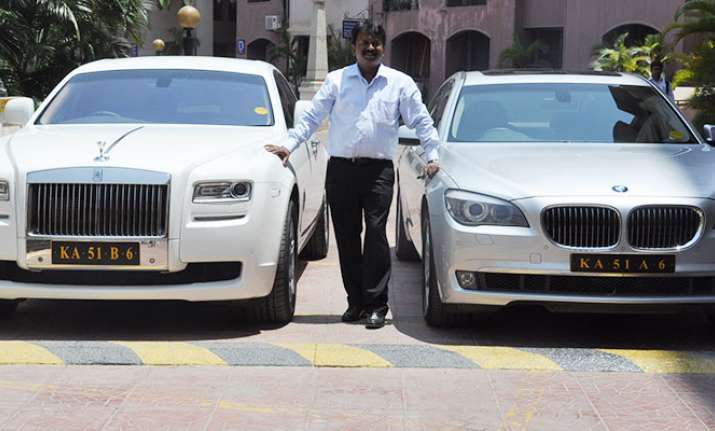 While buying a luxurious car may be a dream for most of us, the case is different for Ramesh Babu. A barber from Bengaluru who gives haircuts for Rs 75, Babu collects luxury cars that he also rents out. 
According to a Times of India report, Ramesh bought the Mercedes-Maybach, worth Rs 3.2 crore, last month which he got imported from Germany. After Vijay Mallya and a builder, he is only the third person in the city known to have imported this car.
The rest of his illustrious collection boasts of a Rolls Royce, 11 Mercedes, 10 BMWs, three Audis and two Jaguars. 
Ramesh, owner of Ramesh Tours and Travels, spends at least five hours daily in his salon at Bowring Institute, where he personally styles the hair of his regular customers. 
As a professional barber, Ramesh doesn't want to forget his roots. He, however, drives to work in his egg-white Rolls Royce Ghost.
He bought his Mercedes-Maybach last month with his own money, supplemented by a huge bank loan. While his earnings from his salon business are modest, Ramesh has maintained a lucrative luxury car rental business.
Vijay Mallya has the same car but in golden colour. However, it has never been seen in Bengaluru ever since he went to London. Some say it has been sold, while others claim it has been parked in UB City. 
"It gives me a high to know that I'm the only other person after Mallya and a builder to own a Mercedes-Maybach," Ramesh told TOI.
"God is with me and I have worked hard to reach here. My dream is to buy every luxurious car there is. And after Rolls Royce, now it's the Mercedes-Maybach. Driving this is a thrill," he said. 
"I don't want to forget the suffering... the way my mother brought me up in poverty after my father's death. So, I will continue to work in the salon. I can afford this luxury because of my profession. I plan to have more such cars," he added.
Ramesh's father passed away when he was just nine years old. Being very poor, he quit studies and became a full-time barber. 
With his hard work and good networks, he subsequently became a hair stylist. In 1994, he bought a Maruti Omni van and started renting it out. 
As of now, he has 150 luxury cars, some of which he drives to work, or rents out if he finds good clients.