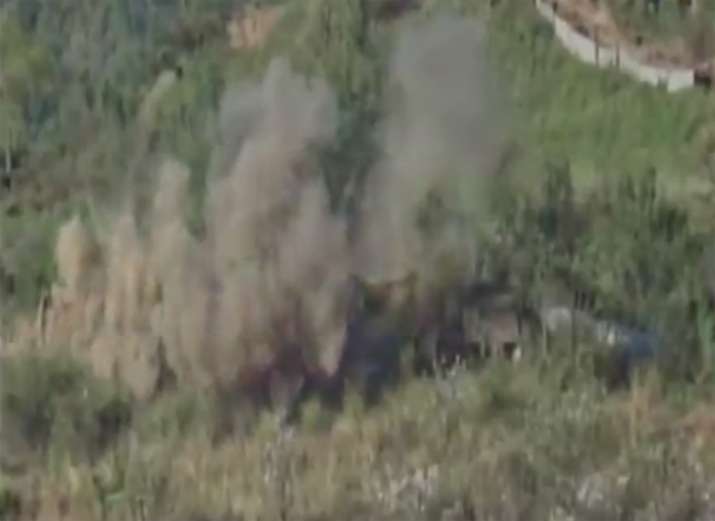 The Indian Army has undertaken "punitive fire assaults" across the Line of Control and has destroyed several Pakistan Army posts in an apparent retaliation against Pak military's support to infiltrators. 
"Punitive fire assaults are being undertaken across the line of control. The Indian Army pro-actively dominates the LoC. We want peace and tranquility in Jammu and Kashmir," the Army said in a statement today. 
The assaults are a part of counter-terror strategy to stop cross-border militant incursion and were undertaken in Nowshera sector. The attacks have caused damage to Pakistan army posts, the Army confirmed. 
#WATCH Pakistani posts destroyed by Indian Army in Nowshera (Jammu and Kashmir) pic.twitter.com/whrWb0wMfg

— ANI (@ANI) May 23, 2017
"The Pakistan Army has been providing support to armed infiltrators...In recent actions in Naushera (border sector of Rajouri district), we have caused damage to Pakistan army posts," Major General Ashok Narula of the Indian Army said. 
"Punitive fire assaults are being undertaken across the LoC. This is part of our counter-terror strategy. So that the number of terrorists (in the state) is brought down and Kashmir youth do not tread a wrong path," Maj. Gen. Narula said.
He said the Indian Army was aware that infiltration attempts from across the border would increase as snow has started melting - which would open up the traditional routes of militant incursion.
He didn't give more details about the operation but shared a video clip showing what looked like a forested area being bombed and smoke and fire billowing up after the explosion.
Without specifying the time of the attack, Narula said it was "recent, very recent" operation.
According to Army sources, the operation was carried out on May 9, nine days after two Indian security personnel were beheaded by Pakistan's Border Action Team. The Army used rocket launchers, anti-tank guided missiles, automated grenade launchers and recoilless guns to target Pak posts. The sources said that similar action will be carried out against all Pakistani posts supporting infiltration. 
There has been a spike in infiltration attempts in recent times with the recent incident coming on Sunday when the Army foiled infiltration bid along the LoC and killed four terrorists. Three soldiers were also martyred in the operation. 
The attack comes three weeks after the Pak Army killed and mutilated two security personnel. The incident created a huge uproar in the country with the families as well as political parties seeking revenge against the Pakistan Army.
Meanwhile, Pakistan Army rejected the reports and said, "Indian claims of destroying Pakistani post along LOC in Naushera Sec and firing by Pak Army on civilians across LOC are false."
Govt supports Army's 'preemptive' actions across LoC 
The government today came out in support of the Army's action against Pakistani posts saying such measures are needed for peace in Jammu and Kashmir. "
Defence Minister Arun Jaitley said the Army is taking such "preemptive" and "measured" actions to counter terrorism in the Kashmir Valley. 
"Government supports the actions of Indian Army across LoC. Such actions are needed to ensure peace in J&K," Jaitley tweeted. 
"Indian Army is taking preemptive and measured actions to counter terrorism in valley and disengage Pak posts across LoC supporting infiltration," he said on Twitter.