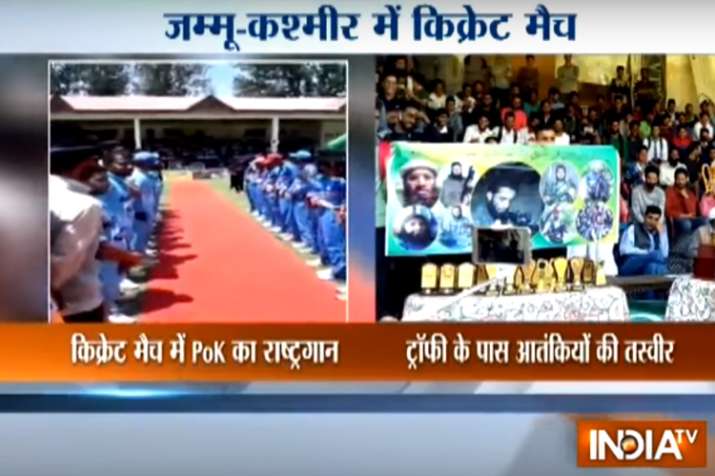 Amid a spate of terror-related activities and disturbances in the form of stone-pelting by the local youth, a sports tournament in the Pulwama district of the restive Kashmir Valley is in the news for all wrong reasons. 
Controversy erupted after a video of the national anthem of Pakistan-occupied Kashmir (PoK) being played at the start of a cricket match in a stadium here on Sunday. 
The "opening ceremony" of the match, which was the final of a cricket tournament, was even streamed live on Facebook.
The video which has gone viral on social media shows members of the two teams, Shining Star Pampore and Pulwama Tigers, lined up as the "Azad Kashmir" anthem plays in the background.  
The Jammu and Kashmir police have registered an FIR against the organisers and others under IT Act. The police said that the had called the organisers for investigation but they did not come and may appear tomorrow. 
The PoK's national anthem was played at the Pulwama stadium, near the Degree College Pulwama, which has been at the centre of the ongoing protests in the Valley. The stadium is located near the Karimabad village which is regarded as a hub of terrorists.  
The video also shows pictures of terrorists placed near the trophy, clearly indicating the patronisation of militants by youths. 
"This is not something extraordinary or rare. This happens at most places during sports events, especially cricket tournaments. It becomes news only when the videos are circulated or posted on Facebook," one of the players was quoted by The Indian Express as saying. 
Nearly three months ago, a similar incident was reported in Kashmir's Kangan region where two local cricket teams had played Pakistan's national anthem before starting a match. 
Soon after the video, in which one of the teams wore Pakistan cricket team jerseys, was posted online, the state swung into action and arrested players from both the teams.
On the other hand, Union Home Minister Rajnath Singh yesterday said, "Kashmir is ours, Kashmiris are ours and Kashmiriyat is also ours". 
He also asserted that the Narendra Modi government will find a 'permanent solution' to the Kashmir problem.