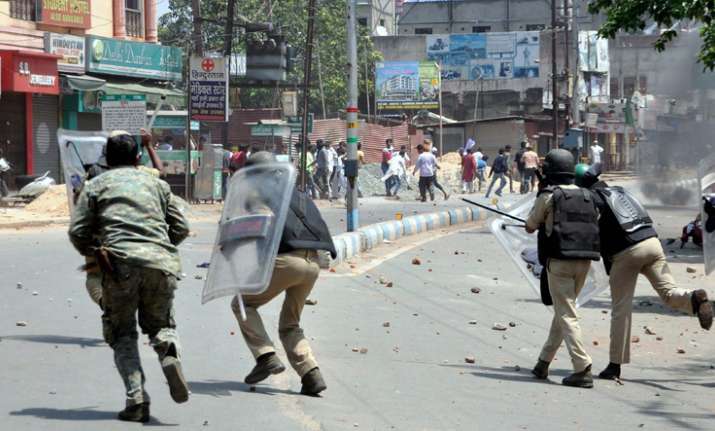 Eighteen persons have been arrested and the officers in charge of two police stations suspended in Jharkhand in connection with the lynching of seven persons in two different incidents last week. 
While four persons were lynched on Thursday in Rajnagar area of Jharkhand's Seraikela-Kharswan district on suspicion of child lifting, three more youths were lynched on the same suspicion in East Singhbhum district the same day.
"It was a spontaneous reaction of the villagers based on unfounded WhatsApp messages about child lifting," S.K.G. Rahate, Jharkhand Home Secretary, said at a joint press conference with DGP, D.K. Pandey.
He said "a total of 18 people have been arrested, and the officers in charge of Bagbera and Rajnagar have been suspended."
On May 18, four people Sheikh Naim, Md Sajjad, Siraj Khan and Sheikh Salim, were beaten to death in Rajnagar of Seraikela-Kharsawa district. In a separate incident, three men, Vikas Kumar Verma, Gautam Kumar Verma and Gangesh Gupta, were beaten to death at Bagbera of Jamshedpur. Vikas and Gautam were brothers.
In the Rajnagar incident, 37 people have been named as accused while 17 people have been named accused in the Bagbera incident.
"The Kolhan DIG and Commissioner will probe the incident and submit the report in one month's time. Asish Batra, IG of Jharkhand, is camping in Jamshedpur," said Rahate.
"We are trying to create awareness through different mediums that no child lifting has taken place in the state. In the rural areas drums are being used to create awareness. We are identifying the people who spread the rumours through WhatsApp," said the DGP.
Meanwhile, the National Human Rights Commission has issued a notice to the Director General of Police in Jharkhand, seeking a report within four weeks into the cases. 
The commission has taken suo motu cognisance of the case based on a media report, and observed that its content is "unpleasant".
"A civilised society cannot allow such heinous crimes to occur where human lives are taken by angry mob merely on suspicion of them being anti-social elements," the NHRC said in a strongly-worded statement released today. 
After the May 18 incident, large scale protests were witnessed in Jamshedpur. Members of the Muslim community protested the lynchings and clashed with police and tried to torch a police station on Saturday. Police had to use teargas, and fired in the air to control the protesting mob.
The situation is under control.
The Jharkhand government has announced Rs 2 lakh compensation to the kin of the killed persons.
In the last fortnight, 10 persons have been killed in Seraikela-Kharsawa and East Singhbhum districts over the rumours.
(With IANS inputs)