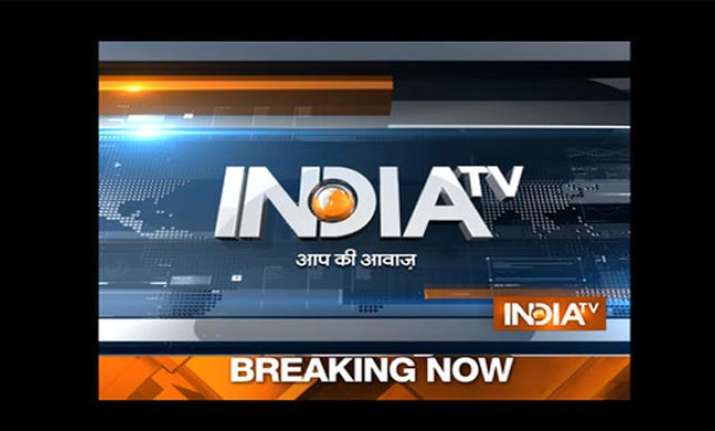 National News
India TV Exclusive: In battle for 'cycle', EC hands Samajwadi Party symbol to Akhilesh Yadav
The ongoing war between the father-son duo of Samajwadi Party, each led by Mulayam Singh Yadav and Akhilesh Yadav, the Election Commission has ruled in favour of son and incumbent CM Akhilesh and awarded him the 'cycle' symbol, sources said.
RBI enhances ATM withdrawal limit to Rs 10,000 per day; weekly limit unchanged
Further lessening the demonetisation woes, the Reserve Bank of India today raised the ATM withdrawal limit from Rs 4,500 to Rs 10,000 per day.
GST: April 1 deadline ruled out, Centre now eyes July 1 for rollout
The April 1 deadline for rolling out the Goods and Services Tax was ruled out today as the stalemate over administration of the new tax regime continued, with Finance Minister Arun Jaitley setting up July 1 as the next possible deadline.
Gandhi ji took three bullets for Tricolour, Modi removed his picture: Rahul Gandhi
Taking potshots at Prime Minister Narendra Modi for replacing Mahatma Gandhi on the Khadi and Village Industries Commission (KVIC) calendar and table diary, Congress vice-president Rahul Gandhi today said even Lord Ram would now come wearing a Modi mask in Ramleela.
'Ghar Wapasi,' says Sidhu after joining Congress, vows to expose Badals
Cricketer-turned-politician Navjot Singh Sidhu today formally joined the Congress party terming the development as a 'Ghar Wapsi' (homecoming) for him.
International News
At least 32 dead as Turkish cargo jet crash lands in Kyrgyzstan village
A Turkish Airlines cargo plane from Hong Kong has crashed near Kyrgyzstan's Manas airport on Monday, killing at least 32 people, most of them on the ground, say officials.
'India's NSG membership can't be farewell gift,' China responds to US on 'outlier' comment
Hitting out at the United States' outgoing Obama Administration for criticism over blocking of India's membership to the Nuclear Suppliers Group (NSG), China today said admission of non- NPT signatories in NSG cannot be a "farewell gift" for countries to give to each other.
Plane makes emergency landing after fisticuffs fly at 30,000 Feet: Report
An ugly fistfight erupted on a packed London-bound flight at 30,000 feet after an air hostess was assaulted, prompting an emergency landing in Istanbul.
Business News
RBI admits it has no data on scams in co-operative banks post-demonetisation
The RBI has admitted that it has no details of any irregularities or scams in the exchange of the demonetised currency notes of Rs 500 and Rs 1,000 by the cooperative banks, a reply under RTI revealed on Monday.
For digital push, Centre mulls reducing free ATM withdrawals to three
In a bid to disincentivise use of cash and promote digital transactions, Centre is considering a proposal to limit the free withdrawals in ATMs to just three.
Prosecutors seek arrest warrant for Samsung heir in bribery case
South Korean prosecutors on Monday requested an arrest warrant for Lee Jae-yong, Samsung Group's de facto leader, on charges of bribery in connection with an influence-peddling scandal that led to President Park Geun-hye's impeachment.
Entertainment News
Dangal girl Zaira Wasim seeks apology after being trolled for meeting Mehbooba Mufti
Zaira Wasim, who hails from Kashmir and played the role of gold medallist Geeta Phogat in the Aamir Khan starrer Dangal, has tendered an apology via social media after she was trolled for meeting Jammu and Kashmir Chief Minister Mehbooba Mufti as well as for starring in the film.
"Koffee With Karan": Priyanka reveals her ex's secrets while taking 'Koffee' shots with the host
Get ready for an explosive episode of 'Koffee With Karan' because the next guest to set the couch on fire is none other than our own Desi girl Priyanka Chopra.
Pakistani singer Atif Aslam pauses his concert to rescue a female fan from molesters
Pakistani singer Atif Aslam paused his concert in Karachi for a while to rescue his female fan who was being harassed by some boys at the event.
Sports News
Might not play that long to even touch Sachin's record: Virat Kohli
Looking at the rate at which Virat Kohli is going, even little master Sachin Tendulkar has admitted that it is only the Indian captain who could better his records.
'Cristiano Ronaldo of Cricket', 'from another planet': Former England skippers on Virat Kohli
Leading the team from the front, Virat Kohli continued his spell-binding performance and shattered several records on Sunday with his innings of 122 runs against England.
Watch: When M S Dhoni forgot he is not captain anymore
India's ODI match against England on Sunday was the first time in almost 10 years when Mahendra Singh Dhoni was on field as a wicket-keeper batsman and not as a skipper.