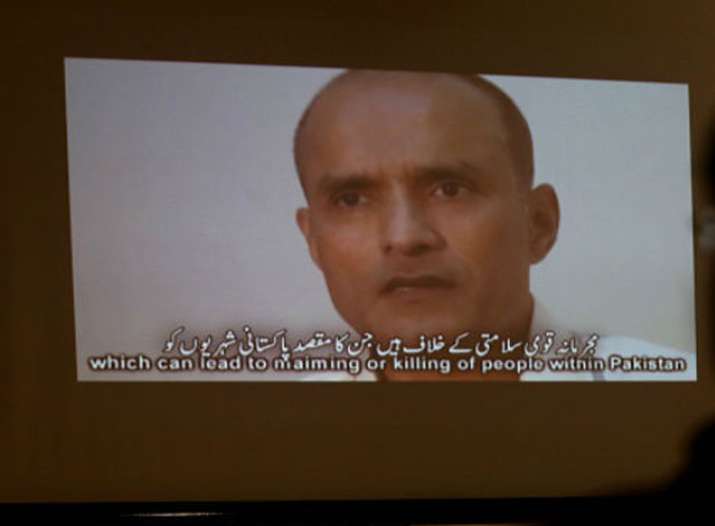 Hours after Pakistan said it has sentenced former Indian naval officer Kulbhushan Jadhav to death, India warned Islamabad that if his sentence is carried out, it will be regarded "as a case of premeditated murder."
A demarche was issued by the Ministry fo External Affairs to Pakistan High Commissioner after a press release by the Pakistan Army said its chief General Qamar Javed Bajwa has confirmed the death sentence of Jadhav, who was arredted by Pakistan last year.
"We have seen the ISPR press release today regarding Shri Kulbhushan Jadhav, an Indian citizen, who has been awarded a death sentence by a Pakistani military court martial," a MEA statement said.
"Jadhav was kidnapped last year from Iran and his subsequent presence in Pakistan has never been explained credibly. The Government of India, through its High Commission in Islamabad, has repeatedly sought consular access to him, as provided for by international law. Requests to that effect were formally made 13 times between 25 March 2016 and 31 March 2017. This was not permitted by the Pakistani authorities," the statement said.
"The proceedings that have led to the sentence against Shri Jadhav are farcical in the absence of any credible evidence against him. It is significant that our High Commission was not even informed that Shri Jadhav was being brought to trial. Senior Pakistani figures have themselves cast doubt about the adequacy of evidence. The claim in the ISPR release that Shri Jadhav was provided with a defending officer during the so-called trial is clearly absurd in the circumstances," it said. 
"If this sentence against an Indian citizen, awarded without observing basic norms of law and justice, is carried out, the Government and people of India will regard it as a case of premeditated murder," the MEA said. 
India won't release Pak prisoners in the wake of Jadhav's sentencing 
India today decided not to release about a dozen Pakistani prisoners, who were to be repatriated on Wednesday, hours after Pakistani army chief approved the execution of Indian national Kulbhushan Jadhav for alleged "espionage and sabotage" activities. 
The government feels that it is not the right time for the release of Pakistani prisoners, official sources said here. 
The prisoners were to be released as part of the practice by India and Pakistan to repatriate nationals lodged in each other's jail after they complete their sentence. 
Jadhav confessed before a Magistrate and the Court: Pakistan Army 
Director General of ISPR, Pakistan Army's media division, Major General Asif Ghafoor today said that Jadhav was tried through field general court martial under Pakistan Army Act 1952 and Section 3 of official Secret Act of 1923.
"FGCM found Kulbhushan Sudhir Yadav guilty of all the charges. He confessed before a Magistrate and the Court that he was tasked by RAW to plan, coordinate and organize espionage and sabotage activities aiming to destabilize and wage war against Pakistan in Balochistan and Karachi," a statement by the Pakistan Army said. 
"Kulbhushan alias Hussein Mubarak Patel was arrested on March 3 last year in a counter Counter Intelligence Operation from Mashkel, Balochistan," the statement said. 
Pakistan Army had also released a "confessional video" of Jadhav, who said he was the serving Indian Navy officer. 
Based on the alleged "confessional video" of Jadhav, Pakistan had submitted dossiers with the United Nations over the "Indian involvement in sabotage activities in the country."
India has admitted that Jadhav worked earlier for the navy but denied he was a RAW agent.
Jadhav's death sentence should serve as warning, says Pak Defence Minister Khawaja Asif
Pakistan's Defence Minister Khawaja Asif today said the death sentence handed out to Indian national Kulbhushan Jadhav for "spying" should serve as a warning to those "plotting" against the country. 
"Those plotting against Pakistan will not be spared," Asif said.
Asif claimed that Yadav's sentencing by a military court was according to the law. 
He said the death sentence handed out to Jadhav should serve as a "warning to those plotting" against Pakistan". 
Asif said that Pakistan would use all constitutional force available against those acting against the sovereignty of the country. 
"Soldiers and civilians of Pakistan have given sacrifices for this country and their sacrifices demand us to give a befitting reply to terrorists and those who aid and facilitate them," he said. 
The defence minister further said that Jadhav's "confession" was a public document and if India raises the issue of his death sentence, Islamabad will reply to New Delhi. 
Jadhav came (to Pakistan) with the approval of the Indian government," he claimed and said there is no doubt that India was "fueling terrorism in Pakistan." 
According to Asif, the entire world had acknowledged Pakistan's struggle against terrorism and the country was dealing with this "menace" from both the "eastern and western front". 
Move to escalate India-Pakistan tension further
Pakistan army's decision today is expected to further strain the ties between India and Pakistan. 
The two countries have been at loggerheads over several issues, including on Pakistan's support to terrorism, since the terror attack on an Indian army base in Uri in Kashmir in September last year by Pakistan-based militants killed 18 Indian soldiers. 
Ten days later, India launched surgical strikes against militant launch-pads in Pakistan-occupied Kashmir.