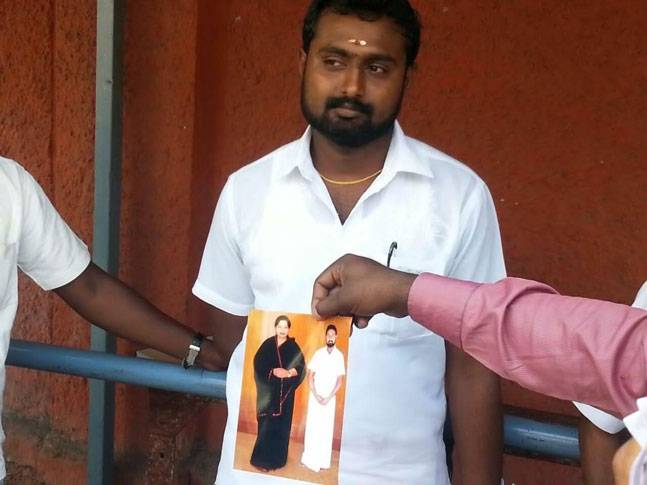 Fuming at a man who claimed himself to be the 'secret son' of former Tamil Nadu chief minister J Jayalalithaa who died on December 5, Justice R Mahadevan of the Madras High Court on Friday said, "I can send this man straightaway to jail. I will ask police officers to take him to jail now itself". 
According to a Times of India report, the man by the name of J Krishnamurthy, had moved the court saying that he was born to Jayalalithaa and the late Telugu actor Shoban Babu. 
He had submitted a bunch of documents, which included a 'deed of adoption', and sought the court's help to declare him as her son and claim ownership of her properties, including the palatial Pois Garden residence. 
He also sought a direction to the Director General of Police to provide him security, asserting that he feared life threats from the family of AIADMK general secretary V Sasikala. 
Justice Mahadevan said that the documents produced by Krishnamurthy were clearly fabricated. 
"Even if the documents are placed before an LKG student, he will say that they are fabricated. You attached a photo available in public domain. Do you think anyone can just walk in and initiate PIL proceedings? This man has fabricated the document. Where is the original?" Times of India quoted Justice Mahadevan as saying. 
The court then ordered Krishnamurthy to appear before the Chennai city commissioner of police on Saturday and submit the original documents for verification. 
The petitioner had claimed that he was born in 1985 and that a year later he was given in adoption to the family of Erode-based Vasanthamani, who allegedly worked in former chief minister M G Ramachandran's household in the late 1980s.
Earlier, Krishnamurthy had filed a complaint which the Chief Secretary of the state alleging that his mother didn't die a natural death but was killed.
He had said that he lives at Jayalalithaa's friend Vanithamani's house along with his adopted parents. He further claimed that he visited the late Chief Minister at her Poes Garden residence on September 14, 2016 and stayed with her for four days.
This is not the first instance of a claimant emerging following Jayalalithaa's death. Earlier, a woman had come out claiming to be the daughter of Jaya, but later turned out to be a hoax. The woman, identified as Priya Lakshmi, had claimed that she was the daughter of MGR and Jayalalithaa.