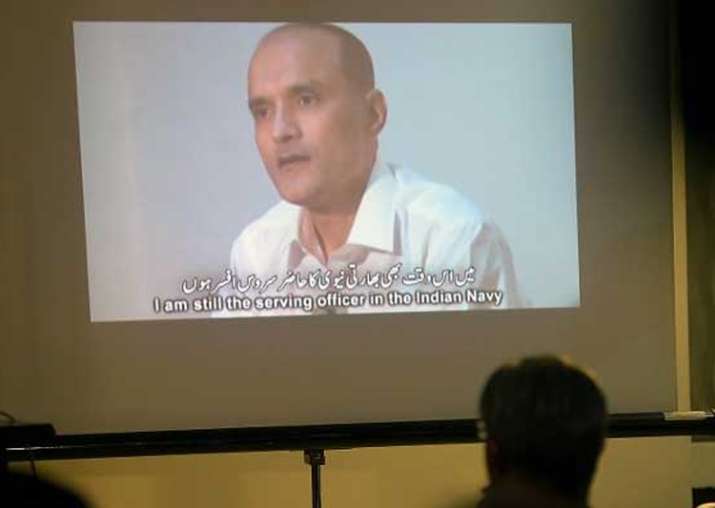 India today expressed relief over the International Court of Justice (ICJ) staying the execution of Kulbhushan Jadhav in Pakistan as countrymen celebrated the ruling by bursting fire crackers and distributing sweets.
Fire crackers were burst by Jadhav's friends in Mumbai's Lower Parel and by his neighbours outside his Silver Oak apartment building in Powai area. A sizable crowd, which had gathered outside the building, shouted slogans of 'Bharat Mata ki Jai' and 'Vande Mataram'. 
The Jadhav family used to stay on the fifth floor of the building. They have now moved out and their flat is locked, a neighbour said. 
"The prayers of 125 crore Indians have been answered. We thank the ICJ for delivering such a welcome ruling," Tulshidas Pawar, Jadhav's childhood friend, said. 
People on social media also celebrated India's win at the international forum. The twitterati said they expect a positive verdict at the ICJ and hope for Jadhav's safe return to India. 
In your dreams ,just like beating India in a World Cup.
Kutta Paalo, Billi Paali, galat fahmi mat paalo. #KulbushanJadhav https://t.co/k8WKLwBR4Z

— Virender Sehwag (@virendersehwag) May 18, 2017
Now with #ICJ order on its side, India must give ultimatum to Pakistan for consular access. If not, time to review ties. #KulbhushanJadhav

— रवि कांत (@LegalKant) May 18, 2017
#KulbhushanJadhav and also to Harsih Salve #internationalcourtofjustice #KulbhushanJadhavverdict Vienna Convention pic.twitter.com/XjuJV4WNTf

— MODIfied Rathore (@RajuAnand11) May 18, 2017
#KulbhushanJadhav ke liye Ek bar fir papa apne bete se jeet gya 🇮🇳🇮🇳JAI BHARAT🇮🇳🇮🇳 🤘💪

— Prince Verma (@princvrma) May 18, 2017
@SushmaSwaraj & @narendramodi बहुत बहुत धन्यवाद, देश का सर गर्व से ऊंचा रखने के लिए। बेगुनाह न मरे।#KulbhushanJadhav #kulbhushanverdict

— Sandeep Pal (@Speak2Pal) May 18, 2017
After Vienna convention #ICJ #KulbhushanJadhav Verdict
Narendra modi
Sushma Swaraj
Harish Salve
What a Great attitude
जय हो 🇮🇳 pic.twitter.com/X65RNYt2B6

— Rohit Rajput (@iamRSRajput) May 18, 2017
Earlier in the day, the ICJ stayed the execution of Jadhav, who has been sentenced to death by a Pakistan military court on charges of espionage and subversive 
activities. 
In a major boost to India, which moved the UN's highest judicial body against the death sentence, the ICJ instructed Pakistan to take all necessary measures at its disposal to ensure that Jadhav was not executed pending a final decision by the court.