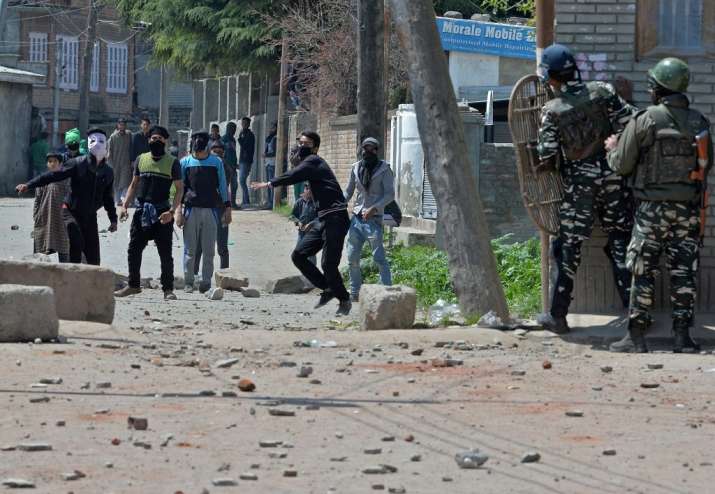 A day after widespread violence left eight people dead during a Lok Sabha by-election, the Kashmir Valley observed a shutdown on Monday in response to a call from separatists.
Markets, public transport, educational institutions and other businesses were closed in Srinagar, the summer capital of Jammu and Kashmir, and other parts of the troubled valley, officials and residents said.
Separatists have called a two-day shutdown and protest against Sunday's killings of civilians by security forces.
Yesterday, eight protestors were killed and over 150 civilians and security personnel injured in nearly 200 instances of violence recorded during the bypoll to the Srinagar Lok Sabha constituency, which witnessed a voter turnout of only 6.5 per cent – the lowest in last 30 years. 
"There were more than 200 incidents of violence, mostly in Budgam district, which included stone-pelting, petrol bomb attacks, setting ablaze of a polling station, some vehicles and attempt to burn another two polling booths," Jammu and Kashmir chief electoral officer Shantmanu said.
Stone-pelting was reported from over two dozen places across the three districts of Srinagar, Budgam and Ganderbal which constitute the Srinagar constituency. The main contestants for the seat are Farooq Abdullah, the joint candidate of the National Conference and the Congress, and Nazir Ahmad Khan, the ruling PDP's nominee. 
Army was called in to assist security forces control a rampaging mob which pelted stones and hurled petrol bombs to set a polling booth ablaze in Ganderbal. 
More than 100 security force personnel were injured in the violence, officials said, adding that several civilians were also injured in police firing. 
J-K Chief Electoral Officer Shantmanu said a poor 6.5 per cent polling took place in the parliamentary seat. 
"I cannot say anything about the repoll as of now. The figure can be anywhere around 50 or 100 polling stations or more than that," he told reporters. 
While two persons each were killed Pakherpora in Chrar-e- Sharief and Beerwah areas of Budgam district, one death was reported from Chadoora area of the same district and another in Magam town, which is known as the gateway to Gulmarg. 
Former J-K CM Omar Abdullah and and his father Farooq later attacked the Mehbooba Mufti-led J&K government for having "completely failed" in ensuring smooth conduct of the polls. 
Following the escalation of violence on Sunday, internet services have suspended in entire Kashmir Valley till Anantnag by-poll on April 12. 
Meanwhile, re-polling has been ordered in 150 polling stations in the Srinagar seat which were hit by violence.
Shanthmanu said of the three districts that form the parliamentary constituency, the turnout was lowest in the Srinagar district - 3.84%. Budgam district, epicentre of the violence, recorded 8.82% voting while Ganderbal saw a 14.71% turnout. Separatists have called for a complete shutdown on Monday and Tuesday against the killings.
Meanwhile, the Peoples Democratic Party asked the Election Commission to postpone the Anantnag election, party sources said.
PDP candidate Tassaduq Hussain Mufti, brother of Chief Minister Mehbooba Mufti, at Anantnag told the poll panel that the situation in the district was not conducive to hold the election.