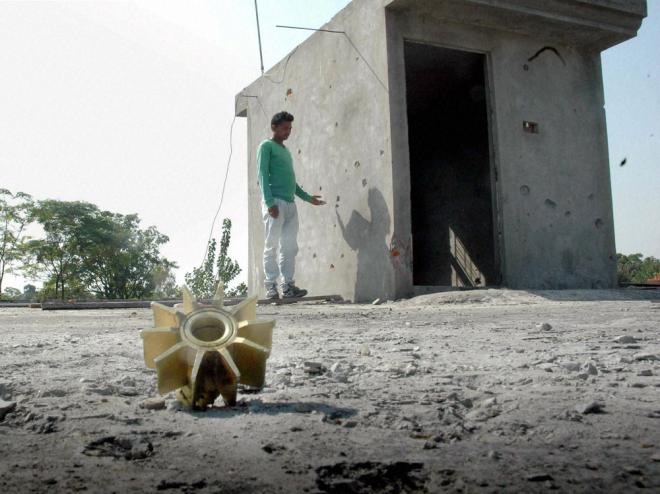 The cross-Line of Control (LoC) travel between India and Pakistan was suspended on Monday due to heavy shelling by Pakistan to which Indian troops retaliated sharply.
In this cross-fire, the Poonch-based cross-border Trade Facilitation Centre was also damaged.
According to a defence spokesperson, the Pakistani troops resumed the heavy mortar shelling and automatic weapon firing on Monday morning after a lull of the ceasefire violation that began on Sunday.
"The Pakistani troops targeted the Indian posts and civilian areas near the Line of Control. There was unprovoked firing by Pakistan Army in Poonch sector from 06:40 hours today with 82 mm mortars and automatic weapons," the defence spokesman said.
He, however, added that  the Pakistani onslaught was "befittingly" responded to.
"The Army took position and responded befittingly and an intermittent firing is on presently," he said adding there has been no casualty on our side.
Summing up the effect of Pakistani shelling, a senior district administration officer said, "The travel on cross-LoC Poonch-Rawlakote bus service was suspended today as precaution due to the shelling by Pakistani troops."
Officer said the shelling also damaged the two-storey administrative block of Trade Facilitation Centre (TFC) at Chakan-Da-Bagh area along LoC in Poonch, necessitating evacuation of the TFC officials to safety.
Today's cease-fire breach is the second in the last 20 hours and the third one in four days.
The Pakistani troops started 82 mm mortar shelling yesterday in Krishnagati sector along LoC in Poonch district.
On March 9, Army jawan Deepak Jagannath Ghadge was martyred in an indiscriminate and unprovoked firing by when Pakistani soldiers at about 2 PM on Indian posts along the Line of Control in Poonch sector.
(With PTI inputs)