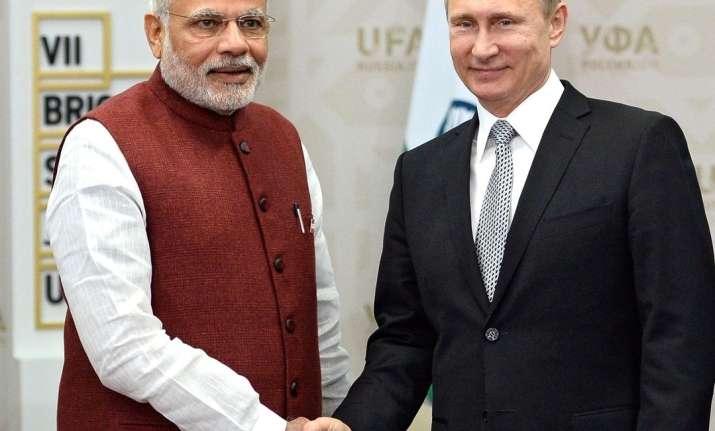 Prime Minister Narendra Modi on Friday asserted that India is delighted to host the 8th BRICS Summit followed by a first-ever BRICS-BIMSTEC Outreach Summit in Goa, adding that he is optimistic that these summits will strengthen bilateral ties among the participants.
PM Modi took to his Facebook handle to post a welcome message for the arriving delegations. He wrote: "In Goa, I will have the honour to receive President Vladimir Putin of Russia for the India-Russia Annual Summit and President Michel Temer of Brazil for a bilateral visit."
"President Putin's visit will give us an opportunity to consolidate and reaffirm a unique time-tested friendship and partnership with Russia," the FB post said.
Vladimir's this visit to India is also important in the context that during this weekend India will sign a deal with Russia to acquire Moscow's most advanced air defence system.   
With this deal India will acquire five S-400 'Triumph' anti-missile defence systems for about Rs 3350 crore.
PM further stated that he looks forward to useful conversations with his fellow leaders from China, South Africa, Brazil and Russia on addressing pressing international and regional challenges that stand in the way of their goals.
Click here to read the post.
"As Chair of the BRICS this year, India has embraced a stronger emphasis on promoting people-to-people linkages in diverse fields including trade, sports, education, films, scholarship, and tourism. It is anchored in the belief that our people are pivotal partners in our effort to craft responsive, collective and inclusive solutions," the Prime Minister said. 
Recently, China not only blocked India's entry into the Nuclear Suppliers Group (NSG), but also stonewalled its bid to get Jaish-e-Mohammad chief Masood Azhar declared as a UN-designated terrorist. When PM Modi and Chinese president Xi Jinping meet for bilateral talks on the sidelines of the BRICS Summit, India will be hoping for some positive output.
India has hinted that it will be pressing China with proof of Azhar's involvement in terror activities to convince China to let go of its resistance to getting him branded a UN-designated terrorist.
Emphasising on the new initiatives that will be launched in Goa during the Summit, Prime Minister Modi expressed optimism that the BRICS Summit will strengthen intra-BRICS cooperation and advance our common agenda for development, peace, stability and reform.
He further said that he is happy that India is facilitating an outreach Summit with the BIMSTEC leaders of Bangladesh, Bhutan, Myanmar, Nepal, Sir Lanka and Thailand.
"Representing nearly two thirds of humanity together, we hope to tap the potential for cooperation and the dividends this will bring. India looks forward to building bridges to new partnerships and finding common resolve and solutions to our entrenched problems," the Prime Minister said.