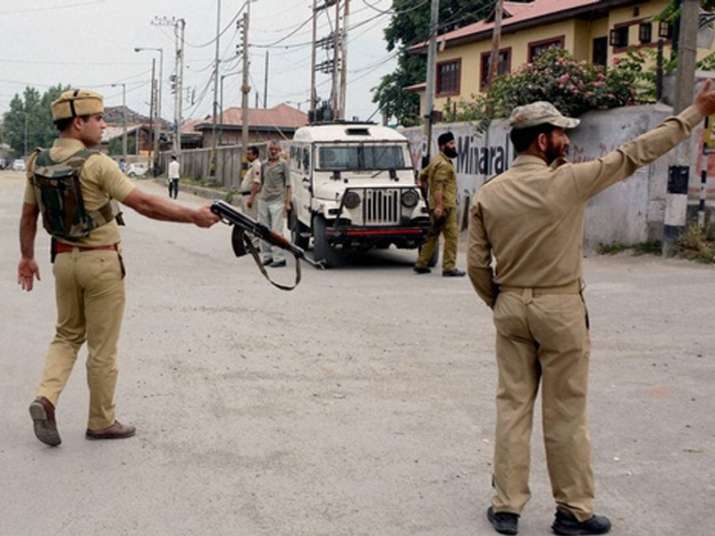 Amid increasing incidents of militants staging attacks on the residences and family members of policemen in Jammu and Kashmir, the state police on Sunday issued an advisory to its field personnel to avoid visiting their homes 'for the next few months'.
The advisory, issued by the police headquarters, comes a day after masked militants barged into the houses of police personnel and allegedly thrashed them in south Kashmir.
The advisory referred to the recent incidents in the Valley where 'terrorists, and anti-national and anti-social elements' have cause damage to the life and property of police personnel.
"In view of these unfortunate incidents, police personnel, particularly from south Kashmir, are advised to exercise extreme caution while visiting their homes. They should preferably avoid visiting their homes for the next few months as their personal security is of paramount importance," the advisory said.

It advised all the heads of various formations to brief their officers and men regarding the threat so the life and property of police personnel were secure.
"All the unit heads are directed to brief their officers and men regarding the impeding threat and ensure that the life and property of police personnel is well secured," it added.


The advisory follows over a dozen incidents of attacks on families of police personnel in Kulgam and Shopian in South Kashmir. The family members of police personnel deployed in anti-insurgency operations were threatened and asked to persuade the uniformed men to quit service.
The first incident of terrorists entering the house of a police personnel was reported in March this year when Hizbul Mujahideen terrorists threatened the family of a Deputy Superintendent of Police in Shopian.
The unprecedented incident had sent shockwaves through the police force, prompting the state police chief SP Vaid to issue a fresh warning to terrorist groups.
Vaid had said, "This is between police and militants and families should not be brought into this conflict. If the police start doing this, what will happen to their families?"
On March 30, militants had barged into the houses of at least five police officers in south and central Kashmir, threatened their family members, damaged household items and warned them to quit the force or face the consequences.
In the latest incidents, militants barged into the homes of two policemen in south Kashmir's Shopian district and asked them to leave their jobs. In Hajipora village, they had even asked a policeman to announce his resignation from the loudspeaker of the local mosque.