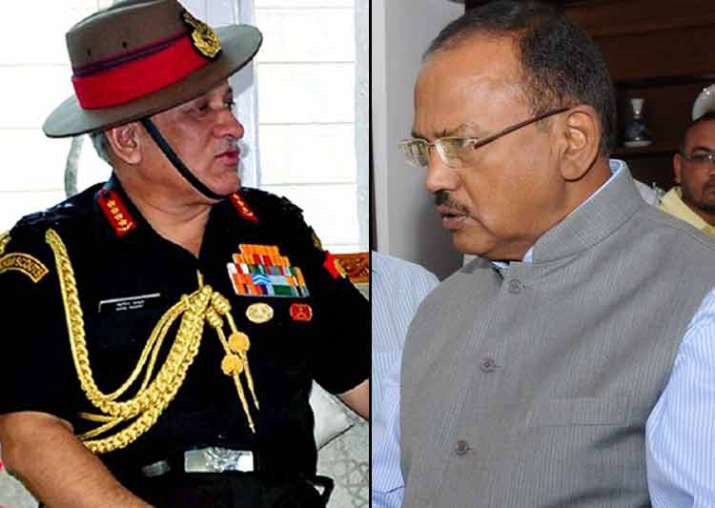 Army Chief Gen Bipin Rawat on Sunday met National Security Advisor Ajit Doval and apprised him of the situation in Kashmir valley. 
The meeting comes amid hightened tension with Pakistan over death sentence to Kubhushan Jadhav and a raging controversy around a video showing a man being tied to an army jeep as a shield against stone-pelters during polling for the Srinagar Lok Sabha seat on April 9.  
The video triggered a public outcry in the valley, prompting the civil and army authorities to launch separate investigations. 
Sources said the Army Chief, during the 30-minute-long meeting, apprised Doval of the situation in the Kashmir valley besides briefing him about overall security scenario in the state. 
General Rawat had yesterday met Jammu and Kashmir Governor N N Vohra whom he apprised of the law and order and the border situation in the state.
Recent incidents of stone-pelting during the recent by-polls also came up for discussion.
Rawat had also met Chief Minister Mehbooba Mufti in Delhi and apprised her about the situation in the Valley and assured her of timely action against its personnel who were responsible for the act of tying the man to the vehicle at Budgam. 
The video, in which a man was seen tied to an army jeep, allegedly as a human shield against stone-pelting, and which had gone viral on social media, had created an outrage in the Valley, forcing the authorities and the army to investigate the matter. 
The man has been identified as Farooq Dar, while the army unit involved in the act was 53 Rashtriya Rifles.