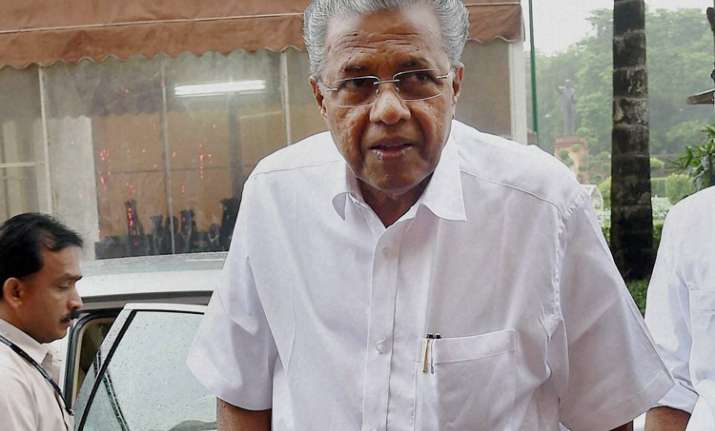 A tough stand by Chief Minister Pinarayi Vijayan led to IAS officers in Kerala withdrawing their plan to go on mass leave over alleged victimisation by Director of Vigilance and Anti-Corruption Bureau Jacob Thomas. 
Vijayan, in a meeting with the delegation of IAS Officers Association, expressed his strong displeasure at the move and reiterated his support to Thomas. 
The Chief Minister told the bureaucrats that they cannot browbeat an elected government in this manner and he will not tolerate any move to weaken it. 
In a meeting on Saturday, IAS officers asked their colleagues to avail casual leave on January 9 to express "dissatisfaction over allowing Thomas to continue abusing his powers".
The meeting came a day after Vigilance named senior IAS officer and Additional Chief Secretary (Industries) Paul Antony as third accused in the case related to alleged nepotism in the appointment of a relative by former Industries Minister E P Jayarajan, who is the first accused in the case.
In a meeting with IAS officers, Vijayan said, "An emotional outburst is understandable, but it should not cross the limit of prudence and tradition. This is not the first time IAS officers are coming under the lens." 
The delegation told the CM that the move was only against the vigilance chief and not against the government but he refused to buy their logic, media reports said.
The officials then informed the chief secretary that they would withdraw their mass leave plan and join duty immediately.
Vijayan informed the officers that the investigation will proceed, and that his government will not interfere in it. He promised the officials that the probe will be free and impartial.
Paul Antony is the fourth IAS officer to come under the scanner of Vigilance after K M Abraham, Tom Jose, both facing charges of assets disproportionate to the known source of income and S Padmakumar, former Managing Director of state run Malabar Cements, who was arrested for alleged irregularities in the company.
Defending Antony, the note said the officer had only obeyed the written instruction of the Minister.
"In the past few months, there have been other instances when the Vigilance Director has unleashed vindictive actions against officers who have either pointed out his illegal misdoings or questioned his powers to take the law into his hands," IAS officers said on Saturday in a note issued to press.
The note also said the government was "protecting" Thomas even though there were reports of allegations against him.