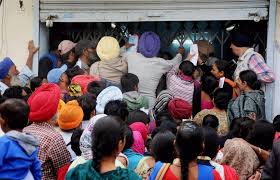 The respite promised by PM Narendra Modi after December 31 still seems far off as banks in several parts of Saurashtra continued to face a cash crunch and had to tackle the customer's ire.
Dena Bank in Devgan village witnessed tense moments when a retired teacher was denied pension because the banks had run out of cash. A scuffle with bank officials ensued as people standing in the queue joined the teacher. Police was called in to defuse the situation.
In Moviya village near Gondal, when the State bank of India ran out of cash, they immediately locked the gates of the bank from within. This further angered the people who were just moments ago standing in line hoping to withdraw cash. In response, they locked the bank from outside as well.
Tempers went soaring in Nana Ankevaliya village of Lakhtar taluka in Surendranagar district as well when nearly 150 people clashed with the staff of Saurashtra Gramin Bank on not getting enough cash. 
In Ajab village near Keshod, people who did not get cash blocked roads affecting normal traffic.
While bankers expect the situation to normalize in a few days, the Reserve Bank of India, sensing the cash crunch in the hinterland, has advised banks to earmark 40 per cent of the cash they receive for rural areas.