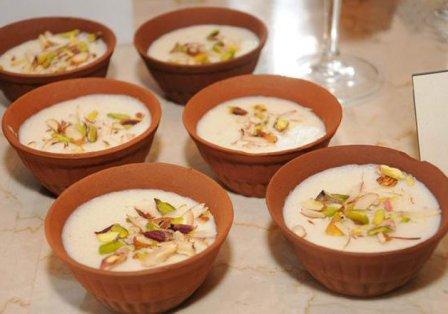 Eid-al-Fitr is the most auspicious festival for Muslims all over the world. It is known for the lip smacking food that are prepared during this festival. This festival is open to all. India, Pakistan, Iran, and Bangladesh have traditional dishes to celebrate Eid. The breakfast of Eid-al-Fitr are sweet dishes and delicious non-veg items. This festival helps in forming close bonds and forgetting the differences over Eid delicacies. Eid-al-Fitr is also known as Sweet Eid because of the sweets that are prepared for the festival. Here is the list of few dishes that are prepared for Eid.
1. Sheer Khurma: This is generally a sweet dish made by cooking saviyaan with dates. The saviyaan and dates, cooked separately in milk, are also consumed as breakfast before offering Eid Prayer. Depending on the locality, the types and forms of the cuisine vary but are always sweet dishes.
2. Beef or Mutton: Depending upon the animal slaughtered in the house. The slaughtered animals are offered as presents to the friends, family and the poor of the society. Barbecue is a must for Eid. The fried liver is consumed in breakfast.
3. Kebabs: Different varieties of Kebabs are prepared during Eid. Kebabs are boneless meat that has been meshed and fried or roasted.
4. Pulao or Biryani: Rice dishes like Pulao or Biryani are a must that are prepared during this festival. These rice dishes are very common in South Asia.
5. Sweets: Sweets are a very important part of a Dawat. In South Asia, cham cham, Barfi, Gulab Jamun, and different forms of cakes as well as ras malai are popular. These are not only consumed inside houses but also presented to relatives and friends when visiting them on Eid-ul-Fitr.