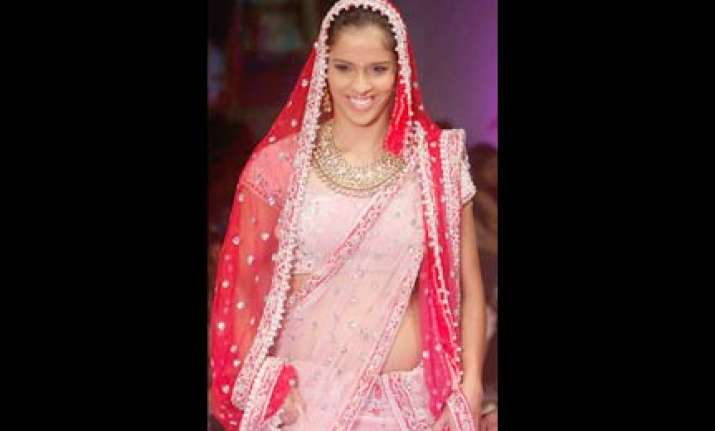 Badminton queen Saina Nehwal walked the ramp in elegant bridal attire on Friday night during the Hyderabad Fashion week, baely a week after winning her third title in a row., reports Mail Today.
For most 20- year-olds, the pressure to showcase the latest in haute couture — while being admonished by shrill designers and catcalled by a less-than-appreciative audience — would prove too great, says the report.
Such demands pale in comparison with the burden shouldered by  Saina Nehwal who bears the cumulative expectations of a billion Indians every time she steps onto a badminton court.
The innate ease with which Saina carries that enormous load — and succeeds despite it — has been nothing short of a revelation as she inches towards the pinnacle of professional badminton .
Having already proved her mettle professionally with her first Super Series win in 2009, there were few balkers when Saina first began promoting herself commercially soon after.
Despite the indisputably intimidating task before her, Saina didn't seem weighed down by the occasion— or the heavy jewellery adorned around her neckline.
Certainly, she won the audience over with her nimble footwork in heels and the infectious grin that never left her face throughout the performance.
The crowd's response was overwhelmingly appreciative — every step she took down the ramp was accompanied by rousing applause and chorus of cheers that didn't abate until she went back into the dressing area.
And if their reaction was any indication, Saina may well have become a success on the fashion circuit as well.