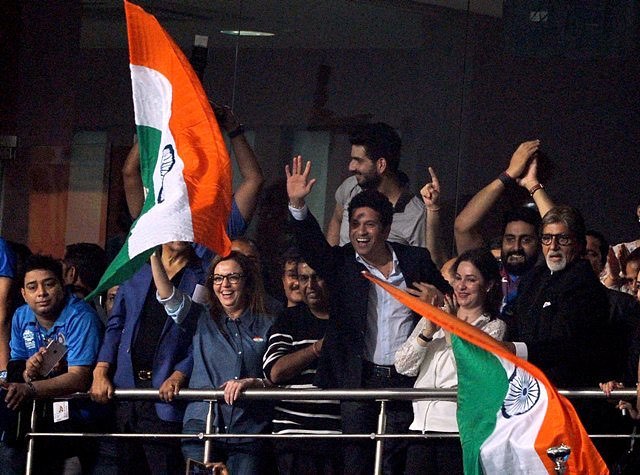 The highly-anticipated India vs. Pakistan for ICC Champions Trophy 2017 is going on in Edgbaston, Birmingham. The adrenaline rush in the country can be deduced by the trending hashtags on Twitter. In no time, #INDvPAK became the worldwide trend on the micro-blogging site. There's a festival-like air in the country. While the team is playing the match on the screen, people on both the sides of the border are biting their nails in front of TV. Our Bollywood stars are not left untouched by the cricket fever. Here's how they're raising the excitement with their cheers for Indian cricket team. 
Ranveer Singh is one of few celebrities who are physically there at the stadium to watch India win with flying colours. One must have seen actors face while watching the team bat on the pitch. Ranveer has always been an ardent sports fan, you can deduce that looking at his Instagram account. Actually, he was in England to watch the UEFA Champions League finale and to his luck, the India vs. Pakistan Champion Trophy match was also scheduled in the country. Apart from watching the match from pavilion, he also tried his hands in cricket commentary as well. Last night, he attended the UEFA Champions League Finale, which was won by Real Madrid. He shared his experience on Twitter. 
COME ON INDIA !!!!! 🇮🇳 🇮🇳 🇮🇳 🇮🇳 🇮🇳 #INDvPAK

— Ranveer Singh (@RanveerOfficial) June 4, 2017
God has descended on Edgbaston 😍🙏🏽 @sachin_rt

— Ranveer Singh (@RanveerOfficial) June 4, 2017
Abhishek Bachchan is another such celebrity who has supported sports by every means. Bachchans are known for their cricket fandom and so how could he miss this match as well. The actor shares a throwback picture on his Instagram account which shows Amitabh Bachchan, Nita Ambani, Sachin Tendulkar along with his wife, Anjali. 
Meanwhile, Tamil actor Dhanush is posting the live pictures on his Twitter account. Actor Prithviraj Sukumaran was also spotted in the pavilion enjoying the match. He also shared the pictures of the stadium on his Twitter account. Rishi Kapoor also expressed his excitement for the ultimate battle on his Twitter account. 
At the stadium .. Ind vs pak.. champions trophy :) and got to meet the one and only god of cricket @sachin_rt 🙏🙏🙏 adrenaline pumping pic.twitter.com/YQclMUwRyS

— Dhanush (@dhanushkraja) June 4, 2017
Birmingham. The biggest Blockbuster releasing tomorrow. You go 🇮🇳 INDIA! pic.twitter.com/r9tTdBcxnM

— Rishi Kapoor (@chintskap) June 3, 2017
Prithviraj Sukumaran is posting live updates of the match from the stadium. 
Edgbaston..Ind v Pak..in 20 minutes! 😊 pic.twitter.com/ZdZ9H2X92Q

— Prithviraj Sukumaran (@PrithviOfficial) June 4, 2017
Match on! India v Pakistan. Champions Trophy. Edgbaston! pic.twitter.com/1NFKQLpAd6

— Prithviraj Sukumaran (@PrithviOfficial) June 4, 2017
It's starting to drizzle! 😖 pic.twitter.com/6u2U75WG9j

— Prithviraj Sukumaran (@PrithviOfficial) June 4, 2017