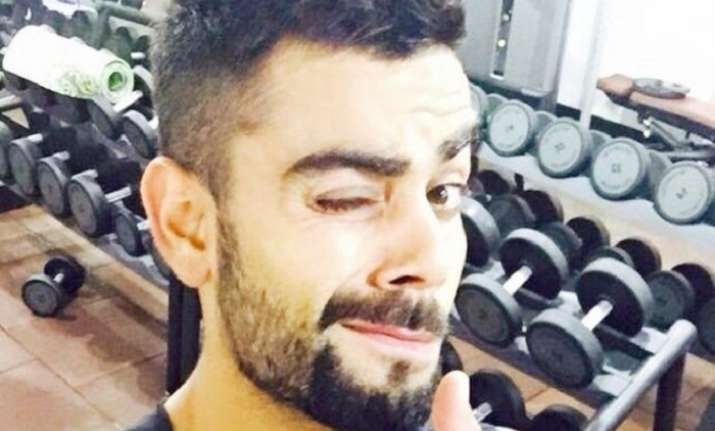 Virat Kohli- the Indian cricketer with the largest female fan following, one of the most eligible bachelor of India, the stylish Captain of Indian Cricket Team, etc. There are so many labels for this dashing hunk we know as 'Virat Kohli'. 
This surprises many people (especially men) why Virat Kohli has such a large female fan following in India. Thus, we decided to answer this question with this short but interesting post. 
He respects the women of his life 
On International Women's Day, the handsome cricketer surprised the fans by posting a picture dedicating his mother and his ladylove, Anushka Sharma. He expressed his heartfelt feelings for the two women of his life unabashedly. How many men do have guts to do that? 
He has a camera-friendly face 
And most of the women seems to be in love with it! He knows he's photogenic and so there's always some visual treats for his fans on his Instagram and Twitter. So many adorable pictures… 
Never fails to enjoy 'Choti-Choti Khushiyaan' of life 
Spending time with kids is the best sort of detox. Cheeku knows this so well. He's seen spending his free time with kids to make the most of his life. 
He's indeed the most stylish cricketer in India 
He can give most of the Bollywood actors a run for their money. Look at his pictures. His fashion game is always on point. In fact, his haircut is the ruling trend among most of the men in India. 
He's a die-hard animal lover 
A man looks his cutest best when he's with either kids or animals. Virat Kohli's love for his pet beagle, Bruno isn't hidden from his fans. His Instagram account has many pictures of him snuggling up with his pooch. 
    
He's vocal about issues like mental health 
Mental health is still a taboo in our country. But Virat appeals people to accept their struggles with depression and anxiety disorders. Here's what he wrote. 
He's a believer, optimist and an inspiration for young minds 
He shares a picture of his early days where he's trying to make an eye contact with the cricket legend, Rahul Dravid with an awe-inspiring message for the youngsters. 
He knows how to tackle social media trolls 
We all still remember how Virat Kohli put the social media trolling to rest with this furious post. His anger was pretty obvious as people have gone to the extent of trolling his rumoured beau, Anushka Sharma. 
He apologised publicly on behalf of men who are 'jerks' to women 
It takes immense courage to apologise for your own mistake. But this dude went all the way to apologise for all the jerks out there. Respect!