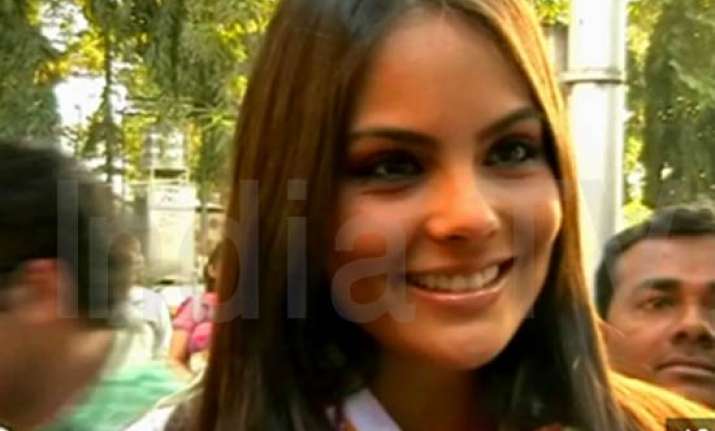 Miss Universe 2010 Jimena "Ximena" Navarrete Rosete of Mexico  has said she wants good roles in Bollywood films, reports Hindustan times.
Miss Universe who was in Delhi, said, she loved everything about India.
"I haven't seen many Hindi films, but the actors are all so handsome, and they can dance, too!" she gushes.  
The beauty queen, who is in the country as part of a 10-day tour to promote designer Sanjana Jon's Celebrate the Girl Child Campaign, is all set to meet actor Salman Khan when she flies to Pune, after a visit to the Shirdi shrine.  
"I've heard so much about Salman. I really want to see some of his films, too," she says.
Ask her if she'd ever consider doing a Bollywood film, and she says, "Why not? I can't sing or dance as well as Indian actors, but I'd be more than willing to learn. I hope someone makes me an offer."
Bollywood isn't the only Indian thing she's going gaga over.  
"I love spicy food. I think I'll feel at home here," she beams.  
Since this trip is choc-a-bloc with charity commitments, Ximena plans to make another visit to India soon enough, and is collecting all the holiday tips she can.  
"This tour is all about work, but my next trip will be all for leisure. I'm absolutely going to ask all the people I meet for tips on where to go and what to do, and come back fully prepared to play the accidental tourist," she says.