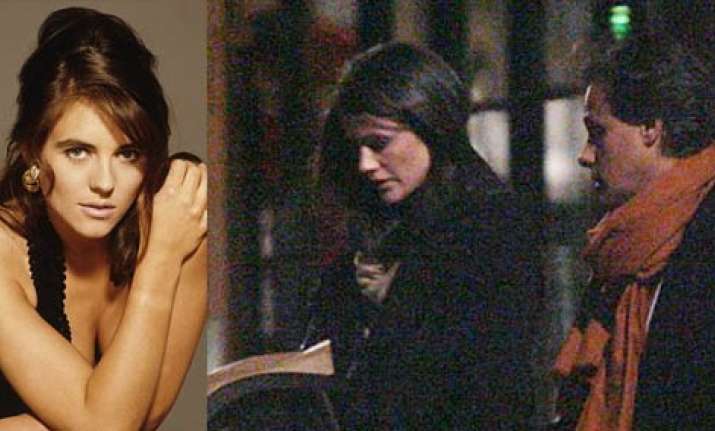 Liz Hurley's jilted husband Arun Nayar is dating a beautiful model who looks just like her – but is 20 years younger, reports Mumbai Mirror.Stunning Kim Johnson, with her glossy hair and green-eyed gaze, bears  striking resemblance to her boyfriend's ex. But having just celebrated her 25th birthday with Arun last weekend, she is 20 years younger than Liz.
Business tycoon Arun Nayar, 46, and new love Kim Johnson, a stunning model who celebrated her 25th birthday last weekend in the company of Nayar.
Last week the couple enjoyed three romantic nights together at Nayar's luxurious £650,000 flat in Kensington. They were also spotted sharing lingering kisses at a window, in an echo of Liz's passionate embrace with cricket legend Shane Warne last month.
Business tycoon Nayar, 46, met his new flame in September while Liz was in New York. Sparks flew when they were seated next to each other at London's Nobu restaurant, and they're now passionate lovers.Dressed in a chic black coat and jeans Kim arrived at Arun's home on Wednesday. At 11pm they left to buy drinks and a takeaway before returning to his home.
They did not emerge till next afternoon when Arun left in his car. Kim left later to meet a friend at South Kensington.
She returned to Arun's home with a doggy bag and after he returned they only stirred to pop out for yet another takeaway later that evening. After spending the night together Kim went to her flat on Friday but later that night returned to Arun's flat. The couple could be seen from the window kissing.
They went out for drinks and dinner with friends in Knightsbridge and stayed until midnight. Arun and Kim returned to their cosy love-nest around 1 am.
On Saturday they parted at midday after Arun gave Kim a lift back to her own flat.Who is Kim Johnson  
•   The only child of businessman Andrew Johnson and Yvonne Sudborough, Kim Johnson was brought up in Buckinghamshire.
•   At 16 she was scouted by London model agencies and took part in the TV series Model Behaviour.
•   Her portfolio now boasts catwalk shows for Vivienne Westwood, Nicole Fahri and Jasper Conran and glossy magazines such as Elle and Glamour.
•   She is on the books for Profile Model Management, who discovered Vogue cover-girl Rosie Huntington-Whiteley.
•   Kim's Facebook page now boasts friends such as model and socialite Olivia Inge, supermodel Louise Adkins and Robert Hissom, a polo-playing friend of Prince Charles