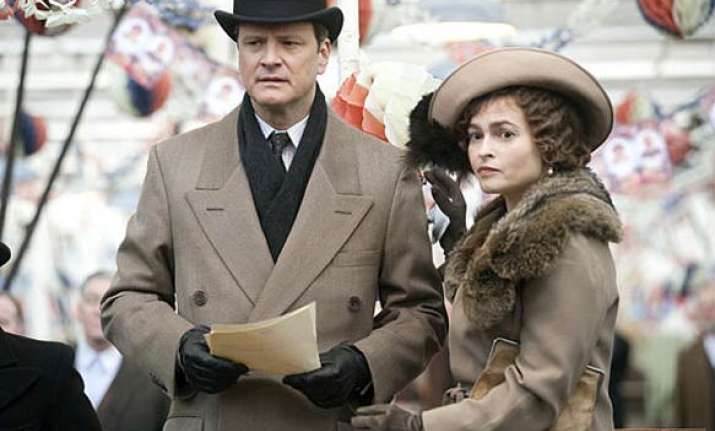 London, Jan 18: Made-in-England favorite "The King's Speech" leads the race for the British Academy Film Awards, Britain's equivalent of the Oscars, with 14 nominations announced Tuesday, including best picture.
Colin Firth is the best-actor front-runner for his performance as stuttering monarch King George VI, with Geoffrey Rush nominated for best supporting actor as the unconventional speech therapist who treated him. Helena Bonham Carter is up for best supporting actress for playing the king's wife, the Queen Mother Elizabeth.
The film faces strong competition from psychosexual ballet thriller "Black Swan," which has 12 nominations, and mind-bending saga "Inception," with nine. Endurance story "127 Hours" and Coen brothers Western "True Grit" have eight nominations each.
"The King's Speech," which shows the monarch struggling to find his voice as his nation faces its greatest test during World War II, has struck a popular chord with its humanizing depiction of the British royal family, drawing ovations from audiences at some screenings.
The modestly budgeted production, which has already earned more than $50 million at the box office in the U.S. and Britain, was partly funded by the U.K. Film Council, a government body that has been abolished by Prime Minister David Cameron's Conservative-led coalition.
Firth, 50, won a best-actor trophy at Sunday's Golden Globes in Los Angeles, and the latest nomination gives him extra momentum going into the Oscars. A win would be Firth's second BAFTA in a row -- he took the acting prize last year for "A Single Man."
"The Social Network," the story of the founding of Facebook, has six nominations including best picture; Aaron Sorkin's screenplay; and David Fincher's direction. Jesse Eisenberg received a best actor nomination for his turn as Facebook's college-student founder Mark Zuckerberg.
As well as "The King's Speech" and "The Social Network," the best-picture nominees are "Black Swan," "Inception" and "True Grit."
The separate category of best British film pits "The King's Speech" against "127 Hours," "Another Year," "Four Lions" and "Made in Dagenham."
The best-actor contenders are Firth, Eisenberg, James Franco for "127 Hours," Javier Bardem for "Biutiful" and Jeff Bridges for "True Grit."
Annette Bening and Julianne Moore are both best-actress nominees for "The Kids Are All Right," along with Natalie Portman for "Black Swan," Noomi Rapace for "The Girl With the Dragon Tattoo" and Hailee Steinfeld for "True Grit."
Best-director nominees are Fincher for "The Social Network," Tom Hooper for "The King's Speech," Danny Boyle for "127 Hours," Darren Aronofsky for "Black Swan" and Christopher Nolan for "Inception."
Elusive graffiti artist Banksy is nominated for outstanding debut by a British writer, director or producer for directing the faux documentary "Exit Through The Gift Shop."
Pete Postlethwaite, who died earlier this month, is nominated posthumously in the best supporting actor category for his role as an Irish-American gangster in "The Town."
The British awards, known as BAFTAs, will be handed out at London's Royal Opera House on Feb. 13, two weeks before the Academy Awards in Hollywood, and are considered an important indicator of likely Oscar success.
Last year, Iraq war drama "The Hurt Locker" won six BAFTAs, including best picture -- then repeated the feat at the Oscars. AP