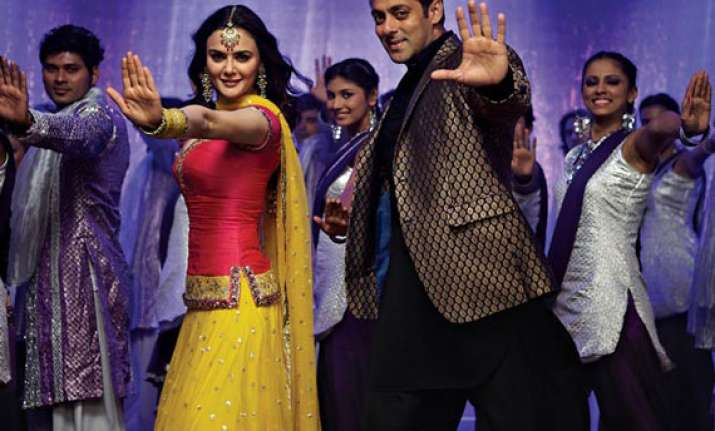 Mumbai: In Bollywood where actors struggle at times to build friendly equations with colleagues, actress Preity Zinta insists that Salman Khan is her "friend for life" because he has always stood by her through thick and thin.
"It is unfair to praise a person only when he is doing well. I have seen Salman through all the phases of his life and my life. Even when I had the IPL cases, financial pressure, Salman was the only guy who stood by my side. It meant a lot to me," Preity said in an interview.
Salman Khan and Preity Zinta share a great camaraderie. The duo has worked in quite a few films together like Har Dil Jo Pyaar Karega, Chori Chori Chupke Chupke, Dil Ne Jise Apna Kaha, Heroesand Jaa-E-Mann.
"It was easy for people to speculate that we are part of a scam. At one point we had to pay Rs 100 crore in a week. He (Salman) was the only person who offered to be there and help me financially and whichever way possible," Preity said while appreciating the Tiger.
"Thank god I did it myself. The point is nobody else did. For me he is my friend for life. People who support you when you need the most, that is friendship and not when you are rocking," she said.
Both of them share a good chemistry on and off screen as well and Preity Zinta says it is because they are comfortable with each other.
"We are genuinely comfortable with each other. I have great chemistry with all my co-stars. If you don't have any kind of affairs with anyone, your chemistry is fabulous as you are doing your job," she said.
In 2009, Preity Zinta made a special appearance for Salman in his and Kareena Kapoor starrer Main Aur Mrs Khanna and now it's the 'Dabangg' Khan's turn to return the favour by doing a peppy Punjabi dance number in Preity's upcoming film Ishkq in Paris, which also marks her debut as a producer and writer.
"There is no hard and fast rule that because I did a song in his film so he did in mine. Out of all the actors, he has been closet and most supportive friend in whatever I have done. Our relation goes back ten years and he is a solid friend. Salman has a big heart. He is honest and straight forward guy," the bubbly actress said.
Salman's presence in the movie will make it more electrifying and is sure to rope in moolah for the movie.
"For me my first film as a producer has been an uphill task because you have to work hard in whatever you do. But he being there has made a huge difference to me, for him in small way, for me in a large way," she said.
The song, titled Kudiye di Kurti, will see Salman dance with Preity at a wedding function in the movie.
Elaborating on the song, the actress said, "Nothing in my life is last minute addition. This song was always part of the film. It is situational and an integral part. The only actor I approached for it was Salman and he agreed. Why not, he is a dear friend of mine. I am happy he did it. He looks awesome and hot," Preity Zinta claimed.
Apart from doing this special song, Preity revealed that Salman gave her lessons in music.
"For me he is so awesome not just for this song but for music. When I was sitting for the music of my film, he taught me how to do a music sitting. He called up Sajid-Wajid one night, we did music sitting, he has great ear for music and he helped us with the music of the film," she said.
Releasing on October 5, Ishkq in Paris, directed by Prem Raj, stars Preity in the lead opposite debutant Rhehan Malliek along with French actress Isabelle Adjani and filmmaker Shekhar Kapur.