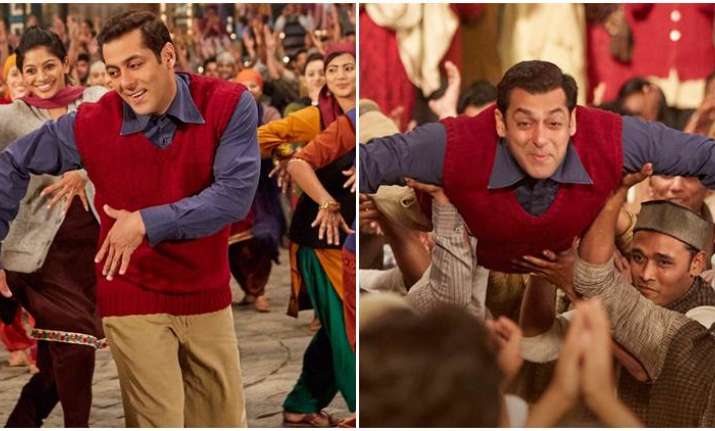 The first song of Salman Khan's much awaited 2017 Eid release Tubelight called Radio has been released, and it features Salman Khan grooving and asking people to turn up the radio.
The Radio Song begins with an overjoyed crowd cheering along with Salman Khan, who goes around excitedly to tell everyone about the good news that he has just heard on the radio. The news has left him elated and ecstatic. The entire village seems to be rejoicing with him.
Salman Khan realeased the song on his Twitter handle.
#Radio Bajaiyyo Bajaiyyo zara! Ab bas #RadioSong bajega! https://t.co/CTzWS2zfzo@kabirkhankk @ipritamofficial @sonymusicindia @amarbutala

— Salman Khan (@BeingSalmanKhan) May 16, 2017
Director Kabir Khan went the extra mile to shoot The Radio Song.
Also Read: Salman lights up Twitter as Tubelight becomes first film to have its own emoji
After shooting amid beautiful natural locations in North India, Kabir Khan wanted to shoot 'The Radio Song' in a town square typical to those in the 1960s. The team went on a recce in and around to find a town which was untouched by modernisation. 
Since they were unable to find an apt location, he decided to construct it in Mumbai itself. Kabir was adamant on the set looking authentic right to the minute details, hence the team converted three acres of Film City into the fictional town Jagatpura. The Radio song was shot there with over a 1000 dancers.
The track, which is a celebratory song in the film, had been shot on a very large scale. It has the touch of the 60s and required a huge crowd to be dancing on it. Kabir had organised for 200 dancers and about 800 juniors to be part of the song along with Salman Khan. 
Tubelight first teaser was released on May 4.
Jaljaa Jaljaa ... Jal Gaya #TubelightTeaser! @kabirkhankk @amarbutala @TubelightKiEid @SKFilmsOfficial https://t.co/aEZweExwMl

— Salman Khan (@BeingSalmanKhan) May 4, 2017
Tubelight is a war drama set amidst the backdrop of the 1962 Indo-China War.
After blockbusters like Bajrangi Bhaijaan and Ek Tha Tiger, Tubelight is Salman Khan and Kabir Khan's third film together.