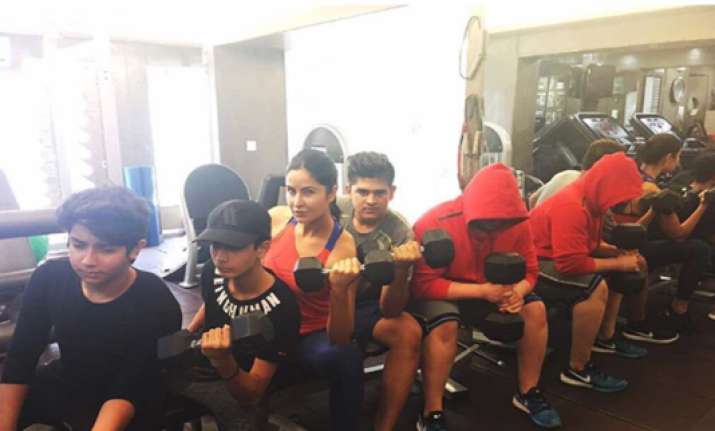 Katrina Kaif, who will be next seen in Salman Khan starrer Tiger Zinda Hai, shared a picture on her Instagram that got us talking. In the pic Katrina can be seen working out with Salman Khan's nephew and called them future Tigers. 
Whether it about her fitness regime or sharing some easy breezy candid pics, Katrina knows all the art remaining in news. The actress recently made her debut on Instagram. 
Well, not just Katrina, but other Bollywood stars including Shah Rukh Khan, Sushant Singh Rajput and Hrithik Roshan keep inspiring fans with their work-out regime.
Here are some work-out videos of celebs:
Sushant Singh Rajput: 
Sushant recently posted his Raabta practice session video in Bangkok on his Instagram account and made fans falls for him again. 
Known for his dedication Sushant can be seen putting in all his effort to do justice to his character in Raabta. In the video which Sushant shared on his Instagram, he can be seen practicing hard to excel his fighting skills for his film.  
Shah Rukh Khan:
SRK, known for portraying romantic drama and love stories on silver-screen shared a workout session video, which is surely going to inspire his fans a lot. In the video, King Khan can be seen sweating and doing muscles exercises. Well, SRK has shared his workout regime, which his fans are surely going to admire.
King Khan's fABulous workout is simply inspiring. When are you hitting the gym? @iamsrk #DailyMotivation #MondayMotivation pic.twitter.com/S5OEBJUyv3

— Red Chillies Ent (@RedChilliesEnt) May 29, 2017
Hrithik Roshan:
One of the fittest actors of Bollywood Hrithik Roshan recently came up with a surprise for all his fans when along with his fitness brand HRX, he launched a workout regime.
While talking about his work-out regime, hrithik said, "The idea behind this workout is to help people move better, faster and feel athletic by progressing gradually. I am asked all the time what I do for my physique, well here it is -- these workouts are combinations of all that I do and all that I have learnt in the gym. I would particularly push people to try the ZMR (zero momentum reps) which is something I discovered for joint strength thru all my injuries. I hope I am able to serve my fans through this."