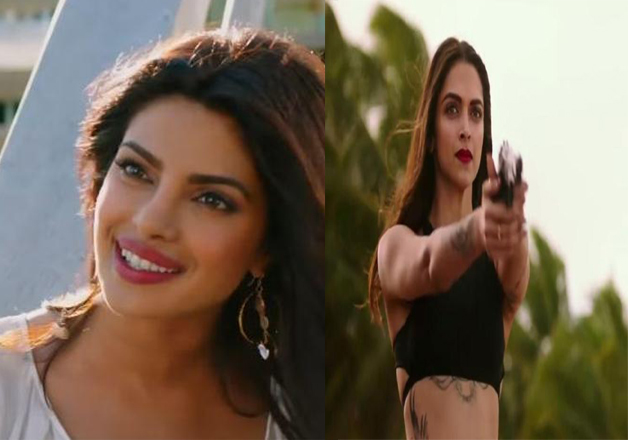 All Indians suffered a heartbreak when they witnessed the blink-a-miss appearance of Bollywood actress Priyanka Chopra in the first trailer of her upcoming Hollywood film 'Baywatch'. Now, as the new trailer of the flick was released yesterday, it gave a few more seconds' screen space to Priyanka.
This time, the lady was at her best in her devilish avatar when she introduced herself as Victoria Leeds to Dwayne Johnson. At the end, she was seen pointing a gun at the Hollywood star. Needless to say, this time her presence was felt unlike the previous trailer but still Zac Efron and Dwayne Johnson stole the show.
One thing that can't be unnoticed here was, similar thing happened with the actress Deepika Padukone. The first trailer of her Hollywood movie 'xXx: The Return of Xander Cage' hardly had a glimpse of her but in the next trailer the lady took over and her sizzling chemistry with Vin Diesel became the talk of town.
But, Priyanka's appearance in this new one was much less when compared to Deepika's. Apart from her introductory dialogue and a gun scene, the Bollywood diva was hardly seen whereas Deepika's flirtatious glances, her action caught everybody's attention in 'xXx'.
Which Bollywood diva will win the Hollywood battle? Only the time will tell.
'xXx: The Return of Xander Cage' is slated to release on January 14 in India. On the other hand, 'Baywatch' will hit the screens on May 26.