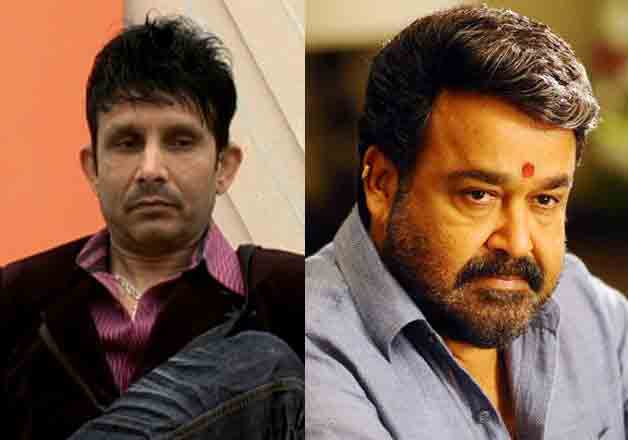 Kamaal R Khan, who is famous for his tweets recently trolled Malayalam superstar Mohanlal calling him Chota Bheem. The self-proclaimed critic then has to face the anger of the actor's fans, who started giving him tiff replies. But, KRK didn't stop and again refereed Mohanlal as joker.
When fans started trolling KRK for his tweets on Mohanlal, the former called him a joker saying that he is a bigger star than the South actor. He also stated that Mohanlal fans are Mawalis and uneducated as they use Facebook instead of Twitter.
People pls see this Chota Bheem. It will be a biggest insult of Bheem if this joker plays role of greatest Bheem. pic.twitter.com/9MhsEXMVq2

— KRK (@kamaalrkhan) April 19, 2017
I would love to play Role of Krishna in #Mahabharata because he was also from Mathura UP like I am from UP.

— KRK (@kamaalrkhan) April 19, 2017
Mohanlal is using Facebook n it's proof how old fashioned he is n of course his fans are lukkhas, Mawalis, uneducated who also use Facebook.

— KRK (@kamaalrkhan) April 20, 2017
There is only one super star Prabhas (Bahubali) in India, who can play my favourite character greatest Bheem of #Mahabharata! Good night!🙏

— KRK (@kamaalrkhan) April 19, 2017
Not only this, KRK also said that only Baahubali star Prabhas can play the role of Bheem in Randamoozham. He previously stated that Mohanlal is unfit for the role and also called him Chota Bheem. KRK in one of his tweets said that he wants to play Krishna in Mahabharata.
This made his fans upset, who slammed the former Bigg Boss content for his tweets.
agar Mark Elliot Zuckerberg ne ye statenent padh lia na to apka facebook page suspend ho jayga @Mohanlal g ko koi fark ni pdga😎

— Jyotika (@Imjytk) April 20, 2017
Haaaaa ye pagle ko akal hainki nai? Jomkud mawali hai mohanlal ko outdated kh rha hai😂😂😂😂

— Tirtha (@happy_me_india) April 20, 2017
if he doesn't use any social media also...he s a hero of million hearts...👨😍n wat abt u??a joker n fool of thrillion hearts 😺🐒

— ZeBa SaLiM ✨ (@neena_zeba) April 20, 2017
Previously many stars including Shah Rukh Khan, Saif Ali Khan, Kriti Sanon were trolled by KRK
Randamoozham is the cinematic adaptation of veteran Malayalam writer MT Vasudevan Nair's novel which is based the Indian epic The Mahabharata.