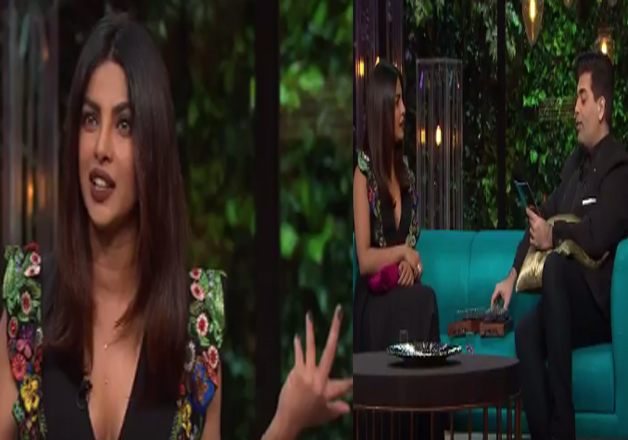 Get ready for an explosive episode of 'Koffee With Karan' because the next guest to set the couch on fire is none other than our own Desi girl Priyanka Chopra. The sneak peek to the episode revealed that PeeCee's energy was contagious because even the host Karan was not spared from having fun.
The lady got vocal about her personal life, and said that rumours will continue but whenever she will get married people will know about it.
Priyanka said, "Whenever they will be ring on the finger, the world will know."  
The quiz round seemed to be a big difficulty for the actress as when Karan asked her to name three former PMs of India and three Mughal Emperor, the lady went speechless and started laughing.
But, the highlight of the show was 'Koffee shots' that Priyanka took with Karan. When she was asked about kissing her ex, giving her yes she said that her mother should not watch this episode. Surprisingly, when the question of being cheated on by your ex arrived, Karan was the one to take shot instantly.
The director also asked Priyanka about the difference between the man of India and the West. The confident lady said that man in our country are little conscious about girls but when it comes other countries they approach directly even if they don't know you.
The last episode of the chat show featured actresses Kareena Kapoor and Sonam Kapoor.