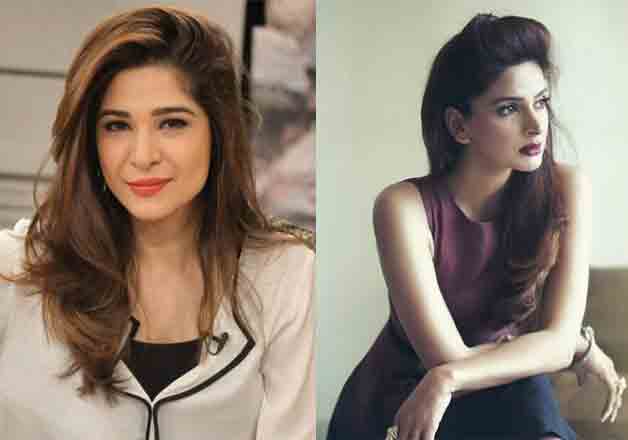 Pakistani actress Saba Qamar, who will be seen in Hindi Medium alongside Irrfan Khan celebrated her birthday yesterday. T-series, which is jointly bankrolling the project with Maddock Films, wished the actress but did a blender while doing so. It took to Twitter to wish Saba but used the picture of another actress Ayesha Omar.
It seems that T-series got confused between the two beautiful ladies and shared Ayesha's picture with Saba's picture in the back while wishing the actress.But, even a minute mistake can't get unnoticed on social media. As soon as this happened, people started trolling T-series on Twitter.
This is Ayesha Omer 😕

— Only Armaan's♡♡ (@umaimajavaid1) April 5, 2017
na to ye sabar kamar hai na ee hindi medium ki 😂

— Amna_sadiq (@Kitty_Ayyan) April 5, 2017
the back ground girl is saba qamar,front wali ayesha omar hai

— I am Ahsan (@kingkhanfan5) April 5, 2017
She's ayesha omer ,,

— Iman♥khilji (@iman1778) April 5, 2017
You guys have lost it. Once again. Congrats.

— Shanaya. (@creation_lush) April 5, 2017
Today, the trailer of Hindi Medium is released and it portrays the struggle of parents to get their child in good school. The film portrays some hilarious dialogues by Irrfan embedded with a good message. Saba also looked convincing as the actor's wife. All parents, who stood in queues for their kid's admission will related to the trailer.
The film talks about the importance of English in current scenario saying that it is not a language but a class. The film is going to be Saba's Bollywood debut. It is still to be known in coming time if Saba will able to shift audience' attenbtion from Irrfan.
Directed by Saket Choudhary, Hindi Medium is slated to release on May 12.